GHC Sites
>
Student Engagement
>
Student Engagement
Ever wondered what life is like as a student at Georgia Highlands College? The Department of Student Engagement is here to help you understand all that GHC has to offer, help you get involved, and enjoy all the events, activities, and programs available while on campus!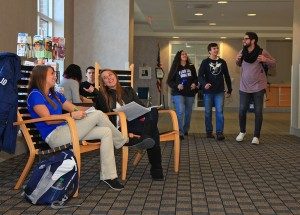 Student Activities:

Campus Events and Activities – Musicians, comedians, speakers, game shows, novelty items, cultural events, and more! Check out what is happening every week at your GHC location for opportunities for fun, laughs, new experiences, and sometimes extra credit! Pick up a "Stampede Card" and get stamped for attending or participating in activities to win tons of free swag!
Student Organizations – Enjoy extracurricular life? GHC has dozens of registered student organizations (RSOs) and campus programs for students to join and participate in.
Student Government Association – Become part of the student leadership at GHC!
Intramural Sports – Where students can choose from a variety of sports, and join a competitive team!
Student Conduct & Judicial Affairs – Our Student Code of Conduct and Academic Integrity Policy! Report a violation, follow policy, and discover adjudication processes.
NJCAA Sports – Athletes play competitively in Basketball, Baseball and Softball!
Leadership and Service – There are numerous ways to give back to our community, let GHC guide the way!
Student Trips – Explore the world through GHC trips, excursions, and study abroad!

Career Planning – GHC is dedicated to your success. Our career service team serves to guide you on your journey to your career!
Student Services – From disability assistance to tutoring, GHC has a variety of serves to help its students.
Campus Safety – Learn about our campus safety department that is dedicated to your safety and security.
Discounted Six Flags / Whitewater Tickets for GHC Students – Username – ghcog, Password – SixFlags10 (Password is Numeric and Case Sensitive)
To learn more about the student engagement at GHC, contact us today!