GHC Sites
>
Student Engagement
>
Mascot
Meet "BOLT" the GHC Charger Mascot!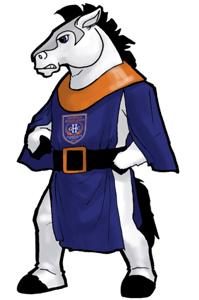 The Georgia Highlands College mascot is the Charger, which is a medieval war horse, named "Bolt". Bolt's purpose is to symbolize school and community spirit while using the actions of exaggerations, characterization, and entertainment to enhance the traditions and emotions the audience has with GHC.
The GHC Charger mascot represents the college as an ambassador and entertainer at campus and off-campus (community) events. The mascot must always be accompanied by at least one "spotter" or "handler" who is responsible for controlling crowds and promoting fan interaction with the mascot.
Mascot Appearance Policies
The Georgia Highlands College Charger is available to appear at any number of campus and off-campus events. Bolt loves going out in public to be seen and people-watch. He also enjoys getting his picture taken with GHC supporters. Appearance requests should be submitted at least two weeks prior to the desired appearance date. Please keep in mind that Bolt may not be available during scheduled academic breaks, and will not be available during exam weeks.
If your request for Bolt to appear at your event is approved, you will need to provide the following:
A parking space close to the event.
A private place to dress and rest (Chargers need at least 15 minutes per hour to cool down and reenergize).
A secure location for clothes and personal items.
Drinking water available at all times.
Reimbursement to the mascot for transportation expenses (see below)
Allowances for a meal for the mascot and handler if the event is more than 5 hours (including travel time).
Lodging for the mascot and handler if the event involves an overnight stay.
Appearance Fees
The current rates for a mascot appearance are:
$50 per hour for corporate or private events
$25 per hour for non-profit (including public school) events
No fee for on-campus GHC events
Off-campus appearances must be for a minimum of 1 hour; and will be charged for one hour for any portion of an hour over 15 minutes
Fees must be received by GHC at least 7 days prior to event
Mileage
Mascot wearers are to be reimbursed for their round-trip mileage from the Georgia Highlands College Floyd Campus to the event, including non-profit events.
Mileage reimbursement will be determined using the government rate, which is currently 55 cents per mile. One-way mileage (using MapQuest) will be rounded up to the nearest mile and then doubled to determine round-trip mileage. The mileage charge will be rounded up to the nearest penny.
The mascot wearer must be reimbursed for mileage when they arrive at your event. Reimbursement may be made in cash or by check payable to the mascot wearer.
Cancellation
If you cancel a mascot appearance at least ten (10) business days before your event, you will receive a full refund. After that time you will receive a refund of the amount you were charged minus a cancellation fee of $20.
If due to illness, personal emergency, class issues, etc. of the assigned mascot wearer, GHC must cancel an appearance and a replacement cannot be found; or if we must cancel due to adverse weather, you will be contacted as soon as possible and you will receive a full refund.
GHC may refuse a request if it is decided that the event or location is not suitable for the mascot.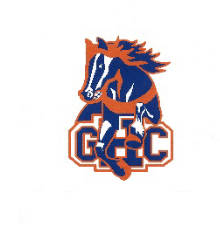 Making a Request
By submitting a Mascot Appearance Request form, you acknowledge your agreement with and acceptance of these policies regarding having the GHC Charger mascot make an appearance at the event you outline in your request.
Fill out the Mascot Appearance Request form. We will confirm the information you submit as soon as possible, and if the request can be approved we will send (via email) invoices for the fee payment and mileage reimbursement to you. If there are problems in fulfilling your request we will work with you to see if a date or time change is possible.
Most requests will be answered within a week. Unfortunately, our mascots do not always know their class schedules very far in advance. Therefore, requests for appearances in a future semester, or for a date more than two months in the future will be acknowledged as received but not confirmed until closer to the event date.
MASCOT POLICY
Wearers of the mascot costume must meet the following qualifications:
Enthusiasm
Creativity
Physically capable of performing required actions, stunts, and activities
Ability to positively interact well with children
Responsibility
Spontaneity
Self-discipline
Due to the size restrictions of the costume, wearers should be between 5'5"-6'0" in height and weigh no more than 220 lbs.
Conduct
Wearers of the mascot costume should abide by the following rules:
Never speak while in costume, except to an accompanying spotter/handler in hushed tones
Be a positive representation of school spirit
Never dress/undress/remove head in public, the mascot's identity should be kept secret at all times!
Gym shorts, a sleeved t-shirt, and socks MUST be worn under the costume
Excessive or risky stunts are prohibited
Inappropriate photos of the mascot shall not be taken, nor are they permitted to appear on any social networking sites (i.e. Facebook, Myspace, etc.)
Always be aware of the limitations of the costume
A structured stretching exercise, flexibility routine, or warm-up period should precede and follow all activities if vigorous actions are planned.
Tumbling or other stunts are prohibited
Proper hydration before, during and after any appearance must be followed
A maximum of 45-minutes may be spent in costume before taking a break
Wearers must bring a warm, dry set of clothing to change into after each performance
Uniform and Appearance
Because of the expense of the costume, wearers should treat the costume with the utmost care at all times and properly handle and clean the costume. Under absolutely no circumstances may the costume or pieces of the costume be used for personal or recreational use.
If the costume is lost or damaged (beyond the normal wear-and-tear expected), the wearer will be held responsible for the cost of repairs and/or replacement. The cost to replace the costume is estimated to be $5,500. Necessary repairs should be communicated to Student Engagement immediately in order that the repairs may be made in a timely manner.
Wearers of the costume are expected to come dressed in proper underwear (including sportsbras for females), gym shorts, sleeved t-shirts (no tank tops, sleeveless shirts, etc.), and athletic socks to wear under the costume. No jewelry (necklaces, earrings, rings, etc.) should be worn while in costume. The cool unit vest may be worn during hot months and for extended appearances both indoors and outdoors. Wearers should bring a warm, dry set of clothes to change into following the appearance.
Getting to Know the Costume
It will take some time to become accustomed to the costume. Obviously, running and jumping with oversized shoes and a head the size of a small planet takes some adjustment. Start out slow. You may want to try the head on first, without the body or other parts. Be sure to breathe normal. You may feel a bit claustrophobic, but this should pass. Get a feel for the vision, ventilation, and weight.
Next, try on the feet. Waddle around. Jump a bit. You'll learn to walk with a slightly wider stride.
Finally, try on the body. You'll quickly realize that it gets warm inside the suit.
After you become acquainted with the separate parts, try them all on together. Walk around and wave your arms. Keep your movements simple, for now. Later, with the help of a handleror spotter, you can begin to tackle stairs and other more complex actions.
A full-length mirror is a great source for feedback. Learn where the eyes, ears, nose, and mouth of the costume are located. When performing, you will need to touch them as if they are your own.
Getting Into Costume
For first time wearers, it is important to have a helper close by to help with dressing. More experienced wearers quickly learn how to suit up alone.
Put on cool unit if needed.
Put on shoulder pads.
Step into body suit, buckle and tighten the tail belt, and pull sleeves on taking care to get over the shoulder pads. The rear zipper must be pulled up, but can be left open a bit if needed.
Put on the tunic. Make sure the tail slit is in back, and tighten the outer tunic belt. Make sure the tunic sleeves and skirt are flowing and not bunched up.
Put on the costume feet WITHOUT shoes.
Put on the head. Fasten the chinstrap. Be sure the head fits securely, without too much "wiggle room."
Put on gloves. Strap down glove velcro, and make sure wrist covers are over the sleeves.