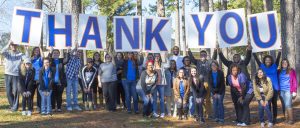 Annual funds make it possible to maintain GHC's tradition of excellence, to enable innovation, and to provide growth opportunities. Most of all, annual funds help our students succeed by providing financial support for them to stay in school and graduate in a timely manner.
Remember: Your gift does not have to be large to make a significant impact. We each have different means and abilities to give, and giving at any level makes a difference. Your generosity enriches the lives of students at Georgia Highlands College and provides them with opportunities that otherwise may not be possible.
Please complete the form below. All information goes through a secure server, and no information is shared with others. Thank you for giving!