Student Engagement Events:
Coffee & donuts! Floyd Campus, outside the MIC, 10am-2pm, Tuesday Dec 7.  Stop by the MIC for some free coffee & donuts!
Hot Cocoa Bar! Cartersville Campus, 10am-2pm, Tuesday Dec 7.  Stop by for some free hot cocoa!
Snack Attack! Douglasville Campus, 10am-2pm, Tuesday Dec 7. Grab some snacks as you tackle your finals!
Charge into Finals! Campus Library Locations. Snacks, hot cocoa & grab bags with Scantrons and goodies!
Student Organizations:
Psychology Club: Wednesdays, 2pm. All majors welcome! Link here
GHC Film Society: meeting Wednesday Dec 8, 2:30 via Zoom. Link here passcode: film
Gaming Club. Connect to the GC on Discord and stay up-to-date on meetings or just chat with students! Scan the QR code below to connect now!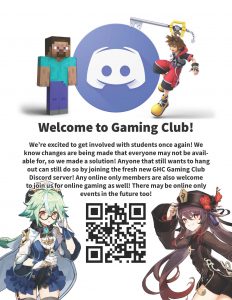 Athletics:
Follow all of GHC's teams at ghcchargers.com!
Men's Basketball:
Nov 26 v SCF Manatee, L 75-72                   Nov 27 v Eastern FL, W 75-70                       Dec 3 @ Chipola, 8p                                       Dec 4 v Gulf Coast, 2p
Women's Basketball:
Nov 23 @ Albany Tech, W 91-57                   Nov 29 @ Chatty St, W 92-48                       Dec 1 v East GA St, W 83-42                             Dec 4 @ Central GA Tech, 1p
Baseball:
Softball:
Community Events:
NW GA Winds. Tuesday, Dec 7, 7pm, Rome City Auditorium.
Internships & Jobs:
Vanderlande Summer 2022 Internships:
Controls-Electrical Internship
Boys & Girls Club of Northwest Georgia job and volunteer opportunities
Interested in working for the U.S. Forestry Service? Click here for opportunities!
Open Positions: Accounting Clerk I: System Accounts Payable, Records Retention- Cartersville City Schools, salary range $29,000-$44,000. Apply here
Firehouse Subs, Rome. Email romega@firehousesubs.com if you're interested
You can check out more available jobs in your area at Georgia Diversity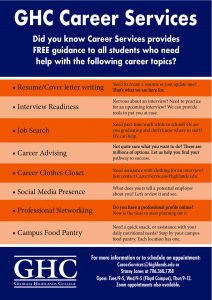 Six Mile Post

:
The Six Mile Post has posted their new weekly newsletter! Click HERE to access all of the information located within the weekly newsletter!
Listen to the latest episodes of the Student Spin Podcast Network HERE
Join the SMP or Student Spin Podcast Staff! Paid and volunteer positions available. For more information, go HERE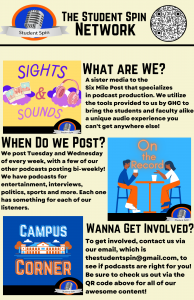 Good to Know!:
The Tutorial Center is back for face-to-face tutoring! Check the Tutorial Center website for hours and details. Virtual tutoring is also still available!
Does your advisor or professor:
Go above and beyond to help you?
Deserve a thank you?
Recognize them for their outstanding efforts! Thank a Teacher or Thank an Advisor.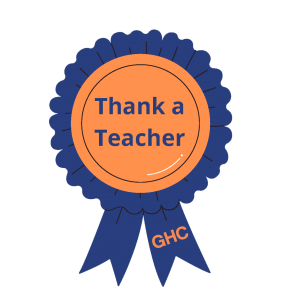 STEM Space: Need help on your course work? Drop by Cartersville C225 for help in biology, chemistry, math, physics & geology! Times vary and are posted on the door outside the room.