Student Engagement Events:
Charge into Midterms with the GHC Library!
We are almost halfway to the end of the
semester, but first we need to make it through midterms! 
The GHC Library has the tools, resources, and
supplies to help you succeed. Stop by and take advantage of all we have to offer. Study alone
or with peers. Re-energize your mind and spirit
with relaxation activities, professional study
aid, and refreshments. 
Visit
https://getlibraryhelp.highlands.edu/FallMidTerm
to see the variety of digital study resources and fun activities we have to offer. 
Have a question? Send us an email at ask@highlands.libanswers.com or follow us on Social Media:
@GHCLibrary on Instagram and Facebook
@GHCLibraries on Twitter and YouTube
Best Kept Secret, musical duet concert. Wednesday, Oct. 5, 12:30pm-1:30pm. Free pizza!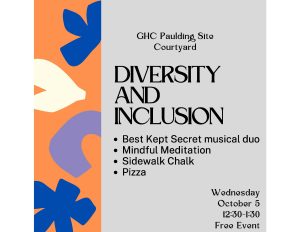 Charge Into Leadership Conference. Friday, October 14, 9am. More info on the conference webpage. Sign up here.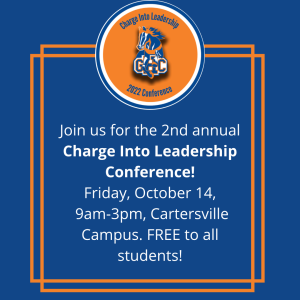 Student Organizations:
Tea Party with the Book Club! Thursday, Oct. 6, 6pm, Cartersville Library. Costumes welcome! For more info, theghcbookclub@gmail.com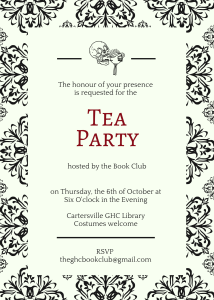 PTK Meeting. Every 1st and 3rd Friday, 10am, via Zoom. Email khuggin@highlands.edu for the Zoom link.

Baptist Student Union. Every Monday, 11am-1pm, Floyd Campus Solarium Free food!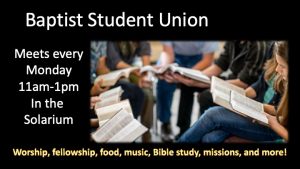 Psych Club Meeting. 2nd and 4th Wednesday of every month, Noon-1:30pm (drop in anytime), Cartersville A-321. Email edose@highlands.edu for more info
Internships & Jobs:
Looking for a job or career? Go to collegecentral.com/highlands to see what jobs and career are available for GHC students!
Work Study - Marketing/Events Assistant

GHC's Marketing and Communications department is looking for a creative, organized, and reliable student assistant to help with various marketing projects and special events. See the
full job description
and apply today.
Federal Work Study Student Worker, Student Engagement- Marietta. 10-19 hrs per week, training provided. Engage with students on the Marietta Campus by being the face of Student Engagement. Help out with student activities and work with clubs on campus. Must be FWS eligible. Email Clifton Puckett at cpuckett@highlands.edu for more information or to set up an interview.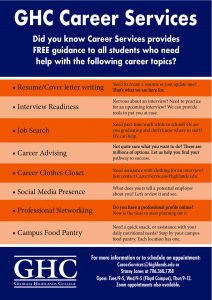 Six Mile Post

:
The Six Mile Post has posted their new weekly newsletter! Click below to access all of the information located within the weekly newsletter!
eNewsletter March 2

Listen to the latest episodes of the Student Spin Podcast Network HERE
Join the SMP or Student Spin Podcast Staff! Paid and volunteer positions available. For more information, go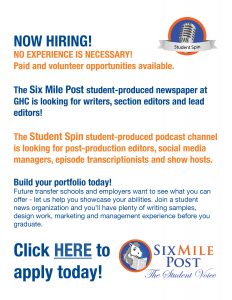 Have an event that you think students are interested in? Click HERE to submit the event and have it announced on the Campus Corners podcast!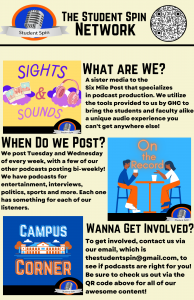 Good to Know!:
The Tutorial Center is back for face-to-face tutoring! Check the Tutorial Center website for hours and details. Virtual tutoring is also still available!
Does your advisor or professor:
Go above and beyond to help you?
Deserve a thank you?
Recognize them for their outstanding efforts! Thank a Teacher or Thank an Advisor.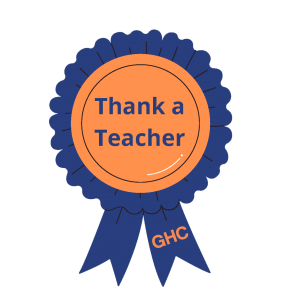 The Library and Learning Commons have chargers for your phone and laptops available to check out!
STEM Space: Need help on your course work? Drop by Cartersville C225 for help in biology, chemistry, math, physics & geology! Times vary and are posted on the door outside the room.