Student Engagement Events:
2021 Virtual Speech Competition: Entries due April 16th. To participate, students prepare and record a persuasive speech on a topic of their choosing (5-6 minutes long). Visit here for more information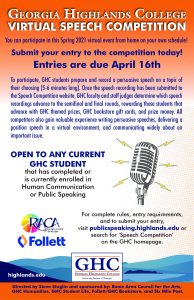 Entrepreneurship Speaker Series: April 14, 12pm, J. Carter has written projects for talents such as Carl Payne, Brad James, Karon Joseph Riley, Terri J. Vaughn, DC Young Fly, and a host of other incredible well-known actors. In the last 4 years, J. Carter has been responsible for creating and/or writing a host of TV pilots, stage plays, and films that have either already been produced and distributed worldwide or are in post-production. J. Carter's most recent business endeavor is Freeli TV, the world's first free linear streaming app offering multiple channels with African-American focused tv series, music videos, movies, sports, and more. Register for the event here.
Virtual Career Fair: April 15, 10am-2pm come meet employers in individual breakout rooms and there will also be resume review and mock interview rooms! Link HERE passcode 587574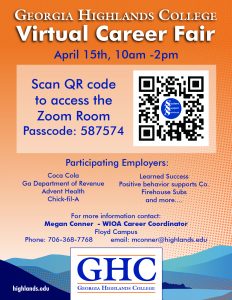 Outdoor Movie- Jurassic World: April 15, 8:30pm Douglasville Campus, back parking lot. Carpool Cinema! Carpool with friends and watch the movie from your cars! Free popcorn and drinks!
Athletics:
Follow all of GHC's teams at ghcchargers.com!
Men's Basketball:
Mar 16 v East Georgia- W, 85-82                       Mar 20 at Central GA Tech- W, 83-80           Tue Mar 23 v Central GA Tech, 7p               Thu Mar 25 v Andrew, 7p                              Sat Mar 27 at Andrew, 4p
Women's Basketball:
Mar 16 v Central GA Tech- W, 80-46           Mar 18 at Central GA Tech- W, 71-46               Mar 20 v Central GA Tech- W, 83-54
Baseball:
Mar 20 at South Georgia- W, 15-0; W, 7-5       Tue Mar 23 v ABAC, 3p(DH)                          Sat Mar 27 v Gordon St, 1p(DH)
Softball:
Mar 18 at GMC- W, 6-5; L, 10-2                         Mar 20 at East Georgia- L, 3-2; L, 5-1            Fri Mar 26 v South GA St, 1p(DH)                Sun Mar 28 v Andrew, 1p(DH)
Virtual Hub:
You heard that right! All students have access to their own virtual hub. Click HERE to access and learn more!