GHC Home
>
GHC Honors Program
>
Director's Welcome
Welcome, and thank you for your interest in the Honors Program at Georgia Highlands College!
With today's competitive job market, graduates are looking for an edge that will set them apart from their peers. Our goal is to challenge students to cultivate depth in critical and creative thought, and facilitate students' original contributions to intellectual life, their community, and their chosen field by providing them with a program where they can excel and fulfill their dreams.
The GHC Honors Program offers students the chance to enhance their education through honors courses, the experience of working closely with a faculty mentor, and opportunities to get involved in campus activities. Honors students increase academic standards across campus, assume leadership roles in college organizations, volunteer in their community, win scholarships, and bring distinction to Georgia Highlands College. The mission of the Honors Program at Georgia Highlands College is to foster an intellectually engaged and vibrant community of students, staff, and faculty. Ultimately, the goal of the program is to produce young adults who will become leaders and serve as transformation agents among their peers, in the campus community, and in the larger social world.
Participating in the Honors Program gives you tools for success here, at transfer institutions, in graduate school, and in your lives beyond your time as a Charger. The Honors Program is always looking to identify talented students within the GHC student population. If you are interested in reaching your academic potential, I encourage you to consider the Honors Program at Georgia Highlands College!
If you have any questions while you are browsing this site, please contact me at honors@highlands.edu. I look forward to hearing from you!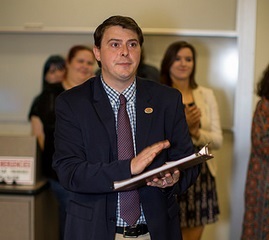 Steve Stuglin, Ph.D.
Associate Professor of Communication
Honors Program Director