GHC Home
>
GHC Honors Program
>
New Rewards
What's in it for me? Why would a student join the Honors Program?
Honors work provides new challenges in classes you are already taking as part of your pathway! You might find some classes boring, or uninteresting, but with an Honors Project you can build something you are passionate about in that class.
Honors work gives you a chance to work one-on-one with a faculty mentor on an Honors project, instead of being one among many in a classroom.
Honors work gives you a chance to engage with higher order content than what you are likely to find in your freshmen and sophomore level courses. You'll get to engage with your faculty members about things that there isn't time for in the regular course.
Honors work prepares you for semester-long research work typical in junior and senior level courses in a major, and for the kind of research work you'll do monthly in Master's level courses. If you already know you have a plan for education beyond GHC, join Honors and get a sense for what that future research work might involve!
Honors Credits, an Honors Certificate, and an Honors Diploma will help you distinguish yourself to future schools and employers! Only 1 in 5 college graduates maintain the GPA level typically required of graduating with Honors, and less than 1% of college graduates have completed an Honors Program!
The benefits of Honors also include: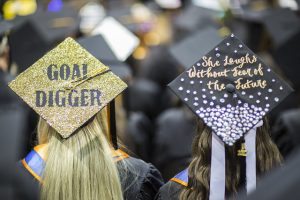 Opportunities to work with other talented and highly motivated students
Opportunities to work one-on-one with some of GHC's best faculty
Small class sizes (approximately 15 students per course)
Preparation for more advanced courses or graduate school
Participation in special activities, including cultural events, honors publications, and social activities such as trips and seminars
Opportunities to showcase talents
Leadership opportunities
Special recognition at the college's annual Honors Day program
Increased transfer opportunities
Scholarship opportunities
Honors recognition at graduation including the opportunity to wear distinctive graduation regalia
Honors recognition on transcripts and diploma
Fast tracked acceptance into Honors Programs around the state
Guaranteed acceptance into partner Honors Programs