Georgia Highlands College Foundation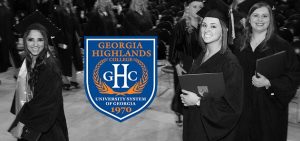 The Georgia Highlands College Foundation has been committed to supporting the college since 1973. The Foundation is driven to enhance education, create opportunities for students, faculty and staff to succeed as well as expand the horizons of Georgia Highlands College.
Georgia Highlands College serves as a point of access to higher education in Northwest Georgia. Founded in 1970 as a two-year institution of the University System of Georgia, the college is non-residential and has locations in Rome, Cartersville, Marietta, Dallas and Douglasville. In 2011, the Board of Regents approved a sector change to state college, and GHC began to offer a limited number of baccalaureate degrees. A Bachelor of Science in nursing was identified as the first such degree with a Bachelor of Science degree in dental hygiene which began in the summer of 2015. A Bachelor of Business Administration in Healthcare Management and Logistics and Supply Chain Management  will  begin Fall 2017.  Other four-year programs that meet the demands of GHC's service area will be added during the next decade.
You can be part of the college's future by giving to scholarships, specific programs, or cultural endeavors. Remember – your gift does not have to be large to have a significant impact. Your generosity can enrich the lives of students at Georgia Highlands College and provide them with opportunities that may not otherwise be possible.
Georgia Highlands College is proud of its legacy in Northwest Georgia area and with your help, we can continue to make a college education accessible to our communities. Your support will help us celebrate the past and prepare for the future of GHC.