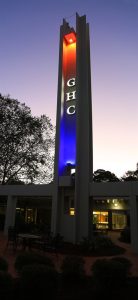 The strength of the region, the state and the nation depends on a highly educated workforce.  Today, Georgia Highlands College provides opportunity by offering an education that is economic, convenient and high quality.  We want to deliver an excellent experience to every student whether the associate's degree is the current goal, they intend to transfer, or they plan to stay and complete a bachelor's degree with us.  The opportunities to make a positive difference are plentiful – and so are your options for making your gift to support this important work. You can be a part of advancing the college's goals by making a gift to campus initiatives, specific programs, or scholarships. Gift opportunities are also available for cultural, athletic or educational outreach programs.
ANNUAL GIVING FUND – OUR DAILY SUCCESS
Annual gifts go to work immediately. They have a direct effect on our students at GHC. Annual gifts provide financial resources for students to stay in school and graduate in a timely manner. Make a meaningful difference.  Make a gift today!
MATCHING GIFTS
can increase the amount of your donation. If you or your spouse/partner are affiliated with a company that has a matching gift program, obtain a matching gift form from the company's human resources department. Send the completed form to the GHC Foundation Office, 3175 Cedartown Hwy, Rome GA 30161.
ANNUAL SCHOLARSHIPS
These scholarships are awarded through the general scholarship fund. All funds are awarded during the year received.  View List
CORPORATIONS AND FOUNDATIONS
Gifts from corporations and/or private foundations create and sustain innovation at GHC such as our nursing program and science labs.
 GIFTS-IN-KIND
One of the ways to support the college is with a "gift-in-kind". Examples of this type include building materials, lab materials, architectural services, furniture and real estate. The donor must take the responsibility of assessing the value of their "gift-in-kind".
PLANNED GIFTS
A planned gift is the process through which a gift is pledged but may be completely or partially deferred until sometime in the future.
A bequest through a will which is an example of a planned gift allows a donor to decide on a contribution years in advance.
The purchase of a life insurance policy naming the Foundation as the owner is additional type of planned gift. This method of giving makes it possible for the donor to make premium payments which are tax-deductible.
Establishing a charitable remainder trust is another planning giving opportunity which allows a donor to make a gift now while receiving a life income. The trust also provides the donor income tax benefits.
Please contact Mary Transue, VP of Advancement at mtransue@highlands.edu, or by phone at 706-802-5457 to discuss any of these gift options.