GHC Home
>
Advancement Office
>
Continuing Education
Center for Continuing and Professional Education
Georgia Highlands College Center for Continuing and Professional Education is proud to offer a broad variety of classes and programs. We are making every effort to bring you the education/training programs that will meet your individual needs. Whether you are seeking a new skill to prepare yourself for a new job, increase your current occupational skills, increase your knowledge of technology, learn a foreign language or just have fun, you will find the program that is right for you.
If you are an employer searching for specialized training for your employees, call us and we will work with you to design the learning activities that will meet your specific needs. We will assess your needs and customize training just for you. Call us at 678-872-8240 and we will be glad to schedule an appointment with you. For all other GHC academic questions please call the GHC hub numbers at 706-802-5000 (Floyd) and 678-872-8000 (Cartersville).

Remember "learning is a lifetime process". Join the thousands of people throughout Northwest Georgia who are enriching their lives through the quality of continuing education opportunities available at Georgia Highlands College.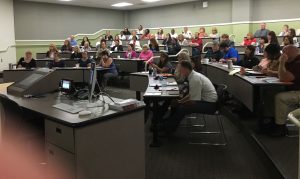 Program Descriptions:
For More Information click here: EDUCATION