GHC Home
>
GHC Office of Advancement
>
GHC Foundation Scholarships
GHC Foundation Scholarships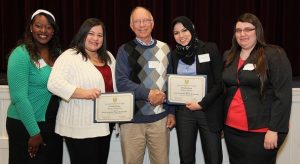 Georgia Highlands College Foundation has been committed to supporting the college and our students since 1973. The Foundation is driven to enhance education, create opportunities for students, faculty and staff to succeed as well as expand the horizons of Georgia Highlands College.
Thanks to the generosity of our donors, the GHC Foundation is pleased to make a number of scholarships available to our current students.
The GHC Foundation contributes over half a million dollars to scholarships and programs each year. The scholarship criteria varies greatly and may be based on age, program of study, county of residence and many other factors.
In order to apply for scholarships at Georgia Highlands College, you will need to have already been accepted for admission through the Admissions Office as an incoming student (freshman or transfer) OR you will need to already be an enrolled student at GHC (currently taking classes at GHC and in good standing) and have a current FAFSA on file with the financial aid office. However, anyone (accepted/current student, parent, etc.) is welcome to search scholarship opportunities through the site for informational purposes.
EXPLORE available scholarships today!