Bursar's Process and Overview
Overview
The Bursar's Office is a department under the Vice President of Finance and administration. The department is responsible for the primary management of the student financial accounting which includes cashiering, billing and collections, student aid refunds, and reporting financial information. In addition, we process all departmental transactions such as deposits and petty cash reimbursements. Our primary focus is Customer Service and Fiscal Responsibility.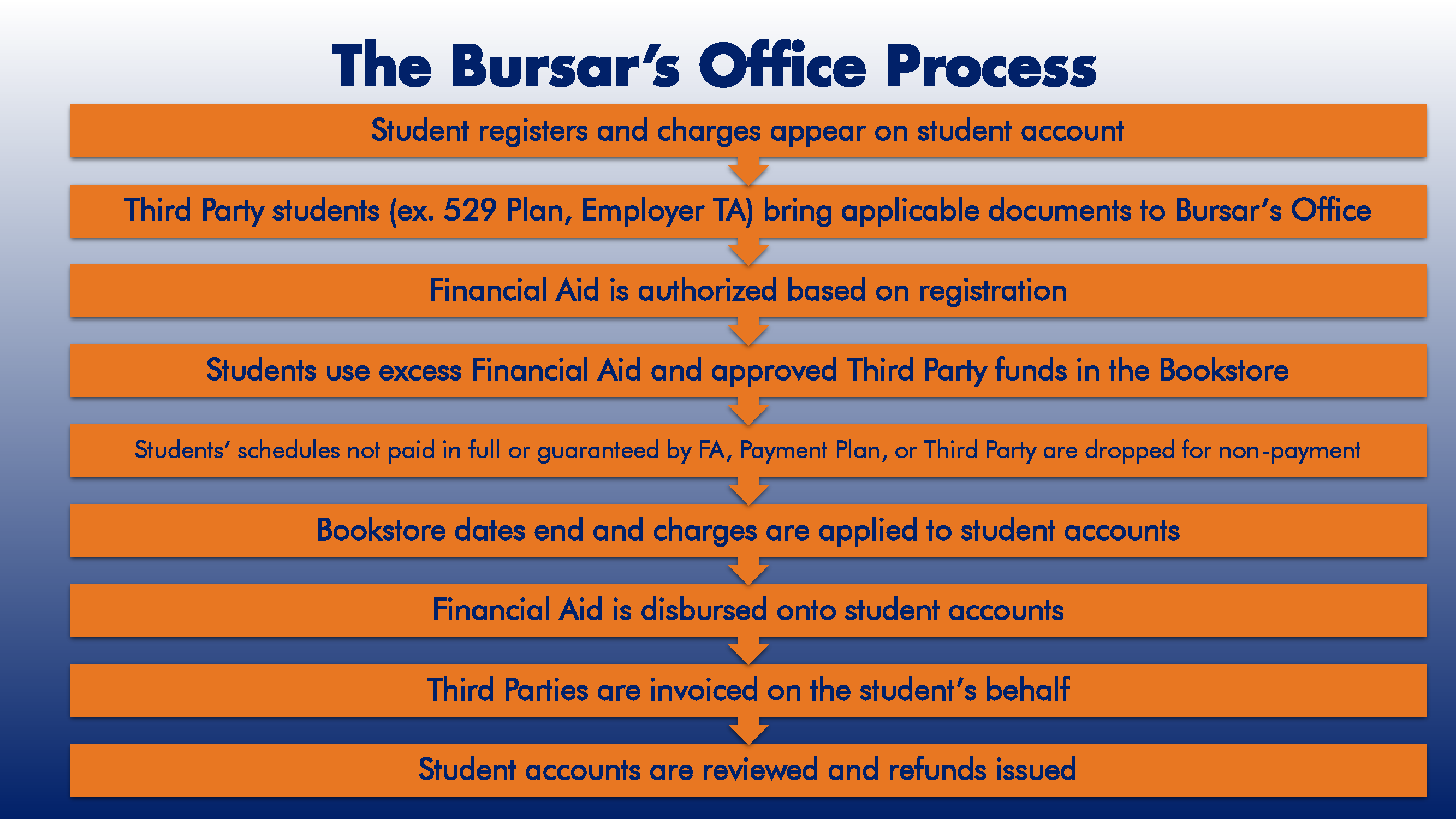 Frequently Asked Questions
How am I going to be contacted regarding my account? Student email is our main source of communication with our students. Please check it frequently for announcements. Phone calls may be made to students with balances as a reminder that Fee Payment Deadlines are imminent.
Where is my refund? Students can view their account online at anytime to see if a refund is due and processed. (Banner/SCORE, then Student Account, then Statement and Payment History) Refunds are processed at a minimum of once a week. Title IV funds are refunded within 14 business days after the credit is placed on the account. Third Party refunds to not follow the same 14-day policy as there are additional verifications required. For more information, please view our Refund Information page.
My balance on SCORE says one thing, but CashNet is different? Why? Cashnet is a third-party vendor that GHC uses to process online payments. They can not view any potential or pending financial aid. Please verify that your financial aid is approved and showing on SCORE. When you make your payment on Cashnet, simply edit the amount you want to pay to reflect the difference between your total balance and what your financial aid covers.
Why do I owe money back to the college? There are several different reasons why money may be owed back to the college, however, the most common is withdrawing from the semester by a financial aid recipient. It is recommended that all students speak with both an academic advisor and a financial aid advisor PRIOR to completing the withdrawal process. For specific questions about an overdue balance, please contact us at 706-802-5000.
How do I pay for my classes? Payments are accepted online and include credit/debit cards and e-Checks. We accept VISA, MasterCard, American Express, and Discover. Please note that a convenience fee is added to all credit/debit card transactions, but there is no fee associated with e-Checks. All Business Office locations accept cash, check, or money order. To pay your balance online, please click here.
Can I make installment payments on my semester charges? Currently, GHC offers the NelNet Payment Plan every semester. For more information, please visit GHC NelNet.
I have a Business Office hold on my account. Why is it there and how can I get it removed? Business Office holds are most often associated with an overdue balance. Please contact us at 706-802-5000 for more information about the hold on your account.
I am taking all of my classes online but I am being charged fees for athletics and parking. Do I still have to pay those fees? Yes, per USG approval, all students are charged fees regardless of whether they are on campus or online as all students have access to the same GHC facilities and services.
My parents are paying for my tuition and want to call to talk to someone at the school about paying my balance. Can they do that? Yes, however, we must have a FERPA on file for you that grants us permission to discuss your student account with other parties. Please find more information about FERPA here. You can find the required form here.
I need a copy of my 1098-T form for my taxes. Where can I get that? 1098-T forms will be mailed out to all students that qualify by January 31st. Please note that not all students qualify for a 1098-T form and that these forms are based on the Calendar year, not Academic year. For more information, please visit: 1098-T Form.