GHC Home
>
Office of Finance and Administration
>
Physical Plant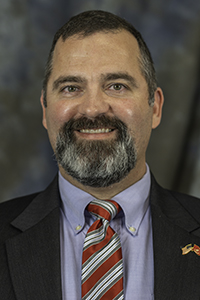 Welcome to the Physical Plant!
As the Director of Physical Plant, I oversee the Physical Plant. Each area within the Physical Plant plays a critical role within the department and strives to uphold the mission of Georgia Highlands College. We are responsible for building maintenance, renovations, major new projects, roads, parking lots, sidewalks, custodial services, landscaping, courier service and much more.
Sincerely,
David VanHook
Director of Facilities
dvanhook@highlands.edu
Mission Statement
GHC's Physical Plant's mission is to maintain and enhance buildings, grounds and the physical infrastructure in a cost-effective, safe and environmentally responsible manner. As a subdivision of Finance and Administration, the Physical Plant works closely with all other departments to provide the physical environment conducive to the highest excellence in teaching and learning.
Support Staff
Mary Cox, Secretary to the Director of Facilities – mcox@highlands.edu
Barry Rogers, Building Maintenance Foreman – barogers@highlands.edu
John Rogers, Electrician – jrogers@highlands.edu
Dennis Childers, Skilled Craftsman Foreman – dchilder@highlands.edu
Jonathan Twilley, Building Maintenance Foreman, Cartersville – jtwilley@highlands.edu
Important Links
Physical Plant Work Order Form