GHC Home
>
School of Humanities
>
Highlands Writers Conference
>
Writers & Workshops
Randi Sonenshine: Children's Literature
I grew up with a beautiful and mysterious swamp in my backyard, where I spent hours exploring and pretending to be in a magical world. It's where I fell in love with storytelling and nature. I still believe there is magic there.
Beyond the swamp, in the woods, there was a tree that my sisters and I named Mr. Goodtree. He was great for climbing and keeping secrets!
My dad used to read aloud poems to me and my sisters. My favorites were "The Raven" by Edgar Allen Poe, and "The Rime of the Ancient Mariner" by Samuel Taylor Coleridge. They were beautiful and haunting, and probably gave me nightmares, but they were like symphonies to my young ears, and I've loved poetry ever since. ​
My mom made sure I always had a plentiful supply of books. Many weekends, she would drop me off at the local library. It wasn't unusual for me to spend an entire day exploring the shelves and reading in a cozy spot. Some early favorites were the Encyclopedia Brown books, and later the Nancy Drew mysteries.
Mayra Cuevas: Young-Adult Literature
Mayra Cuevas is a CNN award-winning journalist and the author of the young adult novels Does My Body Offend You? a Target YA Book Club selection, and Salty, Bitter, Sweet. Her short story Resilient was published as part of the anthology FORESHADOW. Mayra is also the co-founder of the Latinx Kidlit Book Festival and a loud and proud Puerto Rican. She keeps her sanity by practicing Buddhist meditation.
Mayra has been a guest speaker at the LA Festival of Books, YALLWest, Decatur Book Festival and the Six Bridges Book Festival, among others. She loves to connect with readers and is also passionate about craft and inspiring writers to create their best work. She has served as faculty and presenter at the Romance Writers of America national conference, The Highlights Foundation, The Author's Guild, Las Musas Books and various high schools and colleges across the country.
Website: https://www.mayracuevas.com/
Anthony Grooms 
writes on a variety subjects in several genres from historical fiction to science fiction, however his most notable work has been about the American Civil Rights Movement in the southern United States. He is the author of the novels 
Bombingham
, and 
The Vain Conversation
, the story collection 
Trouble No More
, and a collection of poems, 
Ice Poems
. His stories, essays, and poems have appeared in a number of anthologies and literary journals, most recently in 
Atlanta Noir
 and 
Alabama Noir. 
He is a two-time winner of the Lillian Smith Prize, a Hurston-Wright Legacy Award Finalist, a Black Caucus of the ALA Honor Fiction Award, and other honors. He has held fellowships from Yaddo and Fulbright. For more information, please go to 
www.AnthonyGrooms.com
.
Jared Yates Sexton: Non-Fiction & Memoir
Jared Yates Sexton is the author of eight books, including The Midnight Kingdom: A History of Power, Paranoia, and the Coming Crisis from Dutton/Penguin-Random House and The Man They Wanted Me To Be: Toxic Masculinity and a Crisis of Our Own Making, a runner-up for the Georgia Authors Association's Memoir of the Year. His work has appeared in The New York Times, The New Republic, Politico, The Daily Beast, and elsewhere.
Website: https://www.jysexton.com/home-2
Mario Chard: Poetry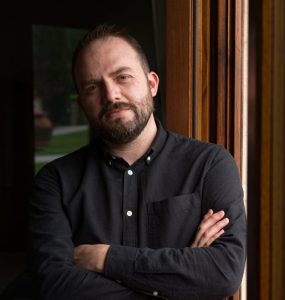 Mario Chard is a poet, critic, and teacher. Born in Morgan Valley, Utah, to an Argentine immigrant mother and an American father, he attended Weber State University (B.A.) and Purdue University (M.F.A.). From 2011-2013, he was a Wallace Stegner Fellow in Poetry at Stanford University.
He is the author of Land of Fire (Tupelo Press, 2018), winner of the Dorset Prize, a Notable Debut by Poets & Writers Magazine, and the Georgia Author of the Year Award in Poetry.
His work has appeared widely in journals and magazines, including The Nation, The New Yorker, Poetry, among others, and his honors include the "Discovery" Poetry Prize and fellowships from the Sewanee Writers' Conference and the Civitella Ranieri Foundation. An inaugural fellow for the U.S. Ledbury Poetry Critics, he lives in Atlanta, Georgia.
Website: https://mariochard.com/
Douglas Young: Novels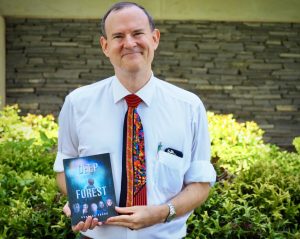 Born in Bartow, Florida in 1961, Dr. Douglas Young was reared a faculty brat in Athens, Georgia before becoming a professor himself. He taught political science and history at Gordon College in Barnesville, Georgia from 1987 to 1999. He then taught at Gainesville State College in Gainesville, Georgia from 1999 to 2013, and he taught at the University of North Georgia-Gainesville from 2013 to the end of 2020 where he also advised UNG's multiple award-winning Politically Incorrect and Chess Clubs. Now a professor emeritus, his essays, poems, and short stories have appeared in a variety of publications in America, Canada, and Europe. His first novel, Deep in the Forest, was published in 2021 and received rave reviews, and his second novel, Due South, should be released in late 2022.
Jennifer Dunn: Screenwriting
Jennifer Dunn grew up between a cemetery and a trailer park and wore a homemade dress to prom, twice. She turns her family stories (the double murder, the time her great-grandpappy got drunk and took over the fire department) into scripts that showcase Southernness in all of its complexity, diversity and cussedness. Jennifer's TV pilot and short film scripts have won top prize at the Atlanta Film Festival, Etowah Film Festival, and Creative Screenwriting Diverse Voices competitions. She has been invited to Cinestory and the Meryl Streep-funded The Writer's Lab, and was a 2022 Sundance Episodic Intensive Fellow.