GHC Home
>
Center for Excellence in Teaching and Learning
>
Programs
>
Professional Development
>
CETL Faculty Learning Communities
CETL Faculty Learning Communities
Faculty Learning Communities (FLC) are a small group of faculty who gather together through the academic year to study, discuss, or examine a specific teaching and learning practice or problem. The following FLCs are running in Summer 2022. Please contact cetl@highlands.edu if you are interesting in starting an FLC for a specific group of faculty.
---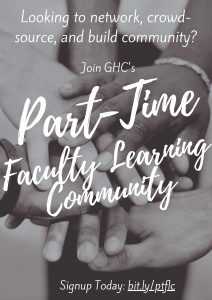 Facilitators: Ra
chel Rupprecht & Kate Bennecker
We recognize that part-time faculty's experiences and needs often differ from those of full-time faculty, so we created this FLC as a space for part-time faculty to voice and collaboratively meet them. We meet monthly via Zoom to discuss whatever is on our minds. Topics have included motivating students, developing grading policies, communicating with students, technology woes, and even a guest appearance from the Assistant Director of Advising, who explained how advising works at GHC and listened to our advising-related concerns. We are excited to continue to further the reach of the PT FLC in accordance with the interests and availabilities of its members.
---
4 to 6 meetings in Spring 2023  |  Virtual or In-Person  |  Facilitator: Tim Floyd
This semester-long workshop allows dedicated time to discuss how Bloom's taxonomy and elements presented in the books Small Teaching and Make it Stick give insight and help you interweave the learning goals of your course and give your students a deeper and more durable understanding of the content of your courses. You do not need to have read this literature to participate. In addition, the sessions will allow for workshopping ideas and course materials.
Each month you will discuss elements from the three works and use the main ideas to help you, as the teaching hero, weave your teaching into meaningful learning. This is similar to weaving a cloth with strong learning threads that are well spaced and paced so the cloth can last beyond the student's time in the course. You will connect the themes of the literature in a way that will support and impact the practice and art of your teaching. The FLC will culminate with a session for faculty to share the emotional and educational aspects of their course.
---

4 monthly meetings in Spring 2023 |  Zoom, Schedule TBD by Participants |  Facilitator: Rachel Rupprecht
Join this FLC to read and discuss Creating the Path to Success in the Classroom: Teaching to Close the Graduation Gap for Minority, First-Generation, and Academically Unprepared Students by Kathleen Gabriel.
"At a time when the numbers of underrepresented students – working adults, minority, first-generation, low-income, and international students – is increasing, this book, a companion to her earlier Teaching Underprepared Students, addresses that lack of specific guidance by providing faculty with additional evidence-based instructional practices geared toward reaching all the students in their classrooms, including those from groups that traditionally have been the least successful, while maintaining high standards and expectations" (from Amazon).
Table of Contents
Retention, Persistence, and Success: Clarifying the Challenge
Class Climate: Widening the Circle for a Diverse Student Body
The First Month of the Semester: Engage, Connect, and Commit
Motivation and Attitudes: Impacts of Mindsets and Mental Toughness Attributes
Interactive Lectures: Using Meaningful Educational Activities
Reading Assignments and Class Discussions: Stimulate Deeper Learning
Writing Assignments: Promote Critical Thinking and Writing
Resilience, Habits, and Persistence: Hold Fast and See It Through
Participants in this faculty learning community will collaboratively determine a reading and meeting schedule. Copies of the book are available at no charge to the first 15 registrants.
---

4 meetings in Spring 2023 |  Zoom, Meeting 1: Feb 8 at 3:00 pm |  Facilitator: Josie Baudier
Join this FLC to read and discuss The Spark of Learning: Energizing the College Classroom with the Science of Emotion by Sara Rose Cavanagh.
In the Spark of Learning, Sarah Rose Cavanagh argues that if you as an educator want to capture your students' attention, harness their working memory, bolster their long-term retention, and enhance their motivation, you should consider the emotional impact of your teaching style and course design. Cavanagh provides practical examples of successful classroom activities from a variety of disciplines in secondary and higher education. The field of education is beginning to awaken to the potential power of emotions to fuel learning, informed by contributions from psychology and neuroscience. (WVU Press Online)
The first meeting of this faculty learning community will be on Feb 8 at 3:00 pm. Additional meeting dates/times will be collaboratively determined. Copies of the book are available at no charge to the first 15 registrants.
---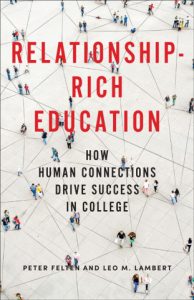 Relationship-Rich Education
Fall 2022-Spring 2023  |  Full-Faculty Read
"What single factor makes for an excellent college education? As it turns out, it's pretty simple: human relationships. Decades of research demonstrate the transformative potential and the lasting legacies of a relationship-rich college experience. . . In Relationship-Rich Education, Felten and Lambert demonstrate that for relationships to be central in undergraduate education, colleges and universities do not require immense resources, privileged students, or specially qualified faculty and staff. . . . RRE provides readers with practical advice on how they can develop and sustain powerful relationship-based learning in their own contexts."
Book discussions will be held in Zoom (links will be emailed to all faculty). Join any of the following as your schedule permits. Registration is not required. This book will be provided to all Full-Time Faculty at In-Service faculty meeting, however, we do have a limited number of extra books for any Part-Time Faculty and Staff who are interested. Part-Time Faculty and Staff should complete the Relationship-Rich Education registration form to participate.
Zoom link was emailed. Contact cetl@highlands.edu to request that it be sent again.
Introduction & Chapter 1
Tues, Oct 18, 12:30-1:30 (Rachel Rupprecht)
Wed, Oct 19, 3:00-4:00 (Josie Baudier)
Fri, Oct 21, 10:00-11:00 (Julius Fleschner)
Chapters 2 & 3
Tues, Nov 15, 12:30-1:30 (Rachel Rupprecht)
Wed, Nov 16, 3:00-4:00 (Josie Baudier)
Fri, Nov 18, 10:00-11:00 (Julius Fleschner)
Chapters 4 & 5
Tues, Feb 21, 12:30-1:30 (Rachel Rupprecht)
Wed, Feb 22, 3:00-4:00 (Josie Baudier)
Fri, Feb 24, 10:00-11:00 (Julius Fleschner)
Chapter 6 & Conclusion
Tues, Mar 21, 12:30-1:30 (Rachel Rupprecht)
Wed, Mar 22, 3:00-4:00 (Josie Baudier) [Note date change.]
Fri, Mar 24, 10:00-11:00 (Julius Fleschner)
---