GHC Home
>
Nursing
Nursing Department
The Georgia Highlands College Nursing Department reflects the mission statement of Georgia Highlands College.
Contact Information
Address:
Dr. Michelle Boyce,
Dean of Health Sciences
Georgia Highlands College – Heritage Hall
415 E. Third Ave. at Glenn Milner Blvd
Rome, GA 30161
Administrative Assistant,
Charlene Jablonski
PH 706.204.2290
FX 706.204.2341
---
Rebecca Maddox
Director of Nursing ASN & LPN Paramedic Bridge
Georgia Highlands College – Heritage Hall
415 E. Third Ave. at Glenn Milner Blvd
Rome, GA 30161
Administrative Assistant,
Chance Hooper
PH 706.295.6321
FX 706.295.6732
History of the Nursing Department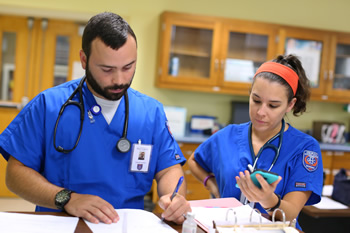 The associate of science in nursing degree (ASN) program opened in 1971 at the campus of Floyd College. The nursing department has been part of the college since 1971 beginning at the Floyd county campus in Rome. The first class of 28 graduated in June, 1973. The National League for Nursing (NLN) gave initial approval of the program in June 1974 and full approval on April 16, 1976. Since then, more than 3000 students have graduated from the ASN Program. Graduates have consistently performed above the state and national average on the licensure examination for Registered Nurses and are currently practicing in a variety of health care settings. Reorganization of the College in 1993 placed the Nursing Department under a newly created Division of Health Sciences along with the Dental Hygiene Program. The Department of Nursing was relocated to Heritage Hall in downtown Rome, Georgia in 1995. Changes in the nursing curriculum are on-going to keep pace with the current changes in health care and to insure a reality-based education for the graduates. There is a traditional ASN as well as LPN and Paramedic to RN bridge programs. The associate degree nursing program is accredited by the ACEN www.acenursing.org through fall of 2016 and has full approval from the Georgia Board of Nursing (GBON) through December 31, 2016. In May 2011 the Board of Regents approved a mission change making GHC a state college becoming a limited mission four-year institution. In June of 2012, SACS approved Level II status for Georgia Highlands College, allowing the institution to begin offering four-year degrees. The Georgia Board of Nursing approved implementation of the BSN in March 2013. The RN-BSN program was approved by the Accrediting Commission for Education in Nursing (ACEN) for candidacy status in December 2013 through fall 2015 and by SACS in June 2014.The first BSN students will graduate in December 2014.
Accreditation
The ASN program has full approval by the Georgia Board of Nursing, Agency member of the NLN Council of Associate Degree Programs, and accredited by the Accreditation Commission for Education in Nursing, 3343 Peachtree Road NE, Suite 850, Atlanta, Georgia 30326, Phone: 404-975-5000, Fax 404-975-5020, http://www.acenursing.org
Last approved by the Georgia Board of Nursing; February 2005. Last approved by the ACEN on July 2008.
The RN-BSN online program has full approval of the Georgia Board of Nursing and is accredited by the Southern Association of Colleges and Schools Commission on Colleges (SACSCOC)) and the Accreditation Commission on Education in Nursing (ACEN) 3343 Peachtree Rd NE Suite 850, Atlanta, GA. 30326 404- 975 5000. www.acenursing.org