GHC Sites
>
Old Red Kimono
>
About ORK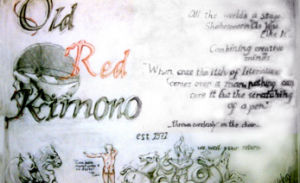 Atteka Abdou

Rochelle Henderson

E. Jones
Staff
Literary Editor:
Steven Godfrey
Art Editor:
Danielle Battle
Asst. Literary Editors:
Blake Leatherwood
Sarah Craig
Casey McRae
Advisors
Nancy Applegate, Ph.D., Professor of English
Jesse Bishop, Ph. D., Associate Professor of English
Links
Old Red Kimono is...
...a student-edited magazine.
...funded through the Office of Student Engagement at Georgia Highlands College.
...a tradition at GHC.
...bringing poets to campus each spring for readings and Q&A sessions with student writers.
...looking for innovative work from students, faculty, staff, alumni, and outside contributors.
...publishing work from some of today's and tomorrow's best writers.
...publishing artwork from the most creative students, faculty, staff, and our community.
...committed to publishing high quality literature and art.
...always free to GHC students!