GHC Home
>
eLearning Support Services
>
About
>
Compliance with State Authorizations
Compliance with State Authorizations
Affecting students who are legal residents of states other than Georgia:
The United States Government and individual states mandate that institutions offering distance education have the approval of each state to provide distance education to residents of that state.  Georgia Highlands College (GHC) participates in the National Council for State Authorization Reciprocity Agreements (SARA) and is an approved SARA institution in Georgia. While GHC acts in good faith to obtain authorization in all states, those authorizations can expire and the conditions of authorization can change.
Status of State Authorizations
The following file shows the status of authorization in each state.  Because the information in this table is subject to change, prospective students or GHC students who are moving to another state are urged to contact elearning@highlands.edu to determine whether GHC is authorized to provide distance education in your state.
Complaint Process for Distance Education Students
GHC strives to assist online students in resolving all difficulties with online classes by working with GHC faculty and staff.  The following procedures exist for handling many complaints.
Incompletes and Grade Appeals
Student Grievance Policy
The first step in addressing a grievance with a GHC faculty or staff member is to contact that individual and try to work it out.  A formal procedure exists for escalating grievances if necessary.
GHC 411
Students who have tried these avenues or have a complaint of a different kind may use the college's problem report facility, GHC 411, to notify GHC's eLearning team for further resolution. Click on the icon below to send a ticket.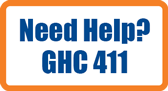 State-based Complaint Resolution Offices and Processes for Distance Education Students
Each state has a consumer office that handles complaints from distance education students.  The one for Georgia is
Nonpublic Postsecondary Education Commission
2082 East Exchange Place, Suite 220
Tucker, Georgia 30084-5305
770-414-3300
Consumer offices in other states may be found on the State Authorization Surveys web site provided by the State Higher Education Executive Officers Association (SHEEO).
Locate your state, click on the name of agency that works on state authorizations, and look along othe left side of the resulting window for "Consumer Protection and Student Complaints."