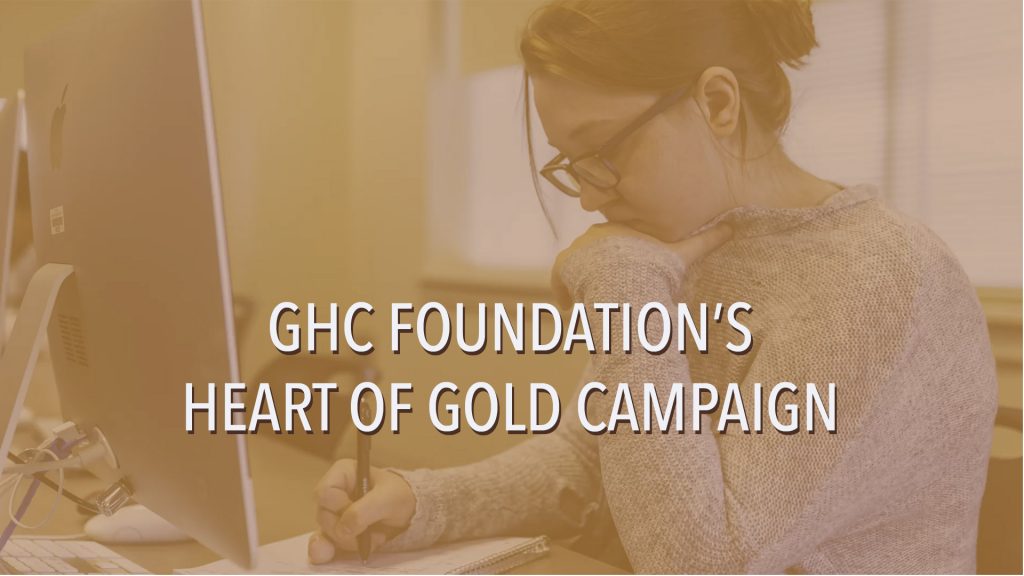 QUICK GUIDE
How can I watch the recorded virtual launch event?
Easy! Click here to watch it today.
Where can I learn more about the GHC Foundation and how the GHC Foundation helps the GHC community?
You can read more about the GHC Foundation and see a list of GHC Scholarships by clicking here, or you can watch this short informational video.
How can I give to the GHC Foundation for the new "Heart of Gold" Faculty/Staff Campaign?
There are multiple ways to donate to help our students and GHC community succeed! The GHC Foundation has an online form at givetoday.highlands.edu for one-time gift opportunities, or if you would like to fill out a physical copy of the form for more options, you can print out the form at the bottom of this page. After you fill out the form, please mail it through intercampus mail to: GHC Foundation – Floyd Campus
Please note that copies of the physical form are also available at each campus leader's office with return envelopes included.
Campus Leaders: Floyd – Bradley Gilmore // Cartersville – Leslie Johnson // Marietta -Ken Reaves // Paulding – Christina Henggeler // Douglasville – Julia Areh // Heritage Hall – Michelle Boyce
I received the "Heart of Gold" email signature for giving to the GHC Foundation. How do I add it to my email?
Sign onto Outlook 365 with your GHC credentials (online version)
Click on Settings in the top right corner of your screen (gear icon)
Click View all Outlook settings
Click Compose and reply
Email Signature is the first box
Remove any existing images under your current signature
Once that is clear, click the Insert Pictures Inline button (photo icon) and select the signature from your computer
Click Save
(*Note* Some users may be able to drag the "Heart of Gold" signature into the Email Signature box.)
Who do I contact if I have additional questions?
You may reach out to us by emailing GHCFoundation@highlands.edu
FACULTY/STAFF CAMPAIGN – PHYSICAL FORM (FOR PRINTING)
*Right click the image below, click save image, then print from your computer*