GHC Sites
>
Information Technology
>
IT Account Help
>
Office 365 for Students
>
Android Email Setup
Please note that the setup screens for your device can vary due to various circumstances. The screen shots below were taken using a Samsung Galaxy S II.
1. Open the email application on your device and enter your email address and password. Press Manual Setup to continue.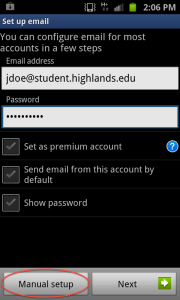 2. Press Microsoft Exchange ActiveSync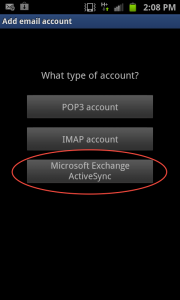 3. Configure the Exchange server to use outlook.office365.com (you may alternatively try m.outlook.com) and be sure to check the two boxes below. Press Next.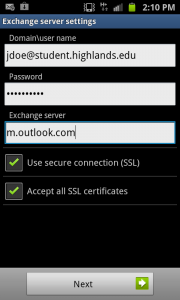 4. You may recieve a message similar to the one below. Press OK.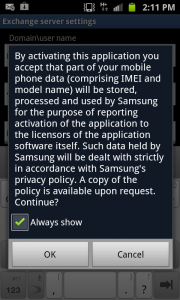 5. Depending on the speed of your Internet connection, the next screen may take a few moments.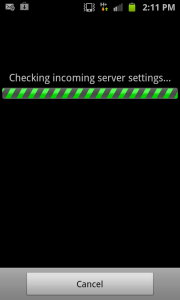 6. Press OK on the following message. This setting allows you to remotely wipe your device in the event that it is lost or stolen.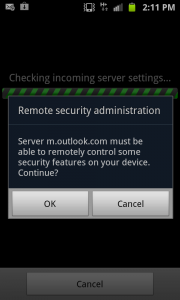 7. Once you have succesfully authenticated, select the email retrieval and sync settings that suit your needs. Press Next when finished.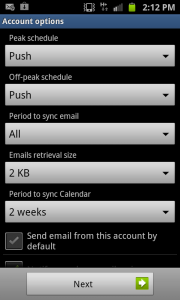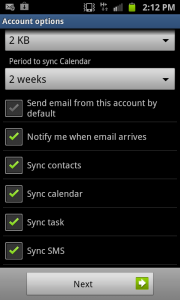 8. Give your account a name, if you wish, and press Done. You have succesfully setup your student email on your Android device!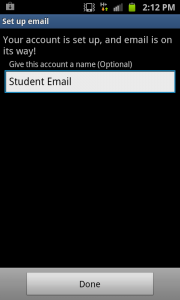 If you have any questions or problems, please contact the IT department for assistance.