GHC Home
>
School of Humanities
>
Special Events
>
Speech Competition Info
Welcome to the GHC Speech Competition!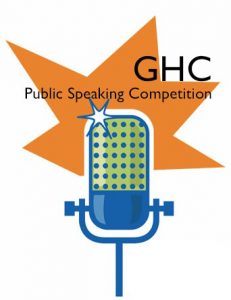 The Ninth Annual Public Speaking Competition was held Friday, April 12th 2019 from 12-4:30 on the Cartersville campus. Congratulations to first place winner Sarah Gupta! Use the Navigation pane to find complete results and details about the event.
About the Speech Competition:
The event invites GHC students to prepare and deliver a persuasive speech to an audience of fellow students, faculty, family, and friends. Many of our students learn basic public address theory and practice in our Human Communication course or Public Speaking course. Still, the performative art of speaking in public is one that requires significant practice in front of live audiences to master. To that end, our event is an opportunity for students to demonstrate speech preparation, verbal style, physical delivery, and to build experience in front of unfamiliar audiences.
Questions or comments?
Steve Stuglin – Competition Director – sstuglin@highlands.edu