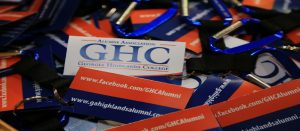 ALL Georgia Highlands College alumni are full members of the Alumni Association!
Some things are forever – like being a Charger!
You can continue your relationship with your GHC family after you graduate. You are automatically a member of the GHC Alumni Association (no dues required!) Not a graduate? No worries, you are still part of our alumni association. Sign Up Today!
Serving our common bonds since 1998, the GHC Alumni Association fosters relationships with alumni and friends through programs that promote the growth, progress and welfare of GHC.
In representing college alumni, we believe:
• All graduates should have access to the benefits of the Alumni Association
• Alumni should remain engaged with the GHC
• Involvement can lead to greater support of the college
Because we believe these things, ALL Georgia Highlands alumni are full members in good standing of the Alumni Association – a lifelong investment in GHC that centers on engagement and gives all alumni equal access to the Association's programs and services.  Although we don't ask you for membership dues, we continue to rely on your support – attending events, volunteering for alumni programs and making a gift to the college.
No matter where you are in the U.S. or around the world, chances are there is a loyal group of alumni just around the corner. The Alumni Association will help you find them, join in activities, and share the satisfaction of celebrating and supporting what Georgia Highlands has meant to you.
Like us on 

  Join us on LinkedIn 

Your free membership in the association offers you a lifetime connection to the college and a host of benefits including:
Annual subscription to the Georgia Highlands publications
Access to the University of Georgia's Small Business Development Center
Access to the Career Center 
Invitations to alumni and college events
Us of the Physical Education Facilities in Cartersville and Rome sites, Fitness Center Usage Policy