A downed airplane resulting in fire, hazardous smoke and numerous injuries and deaths is a scenario no one wants to encounter. But at Georgia Highlands College (GHC), this scenario was the basis for a High Impact Practice and experiential learning opportunity for Nursing and Dental Hygiene students, who recently participated in the Atrium Health Floyd School of Health Science's annual disaster simulation training exercise. 
Held April 26 at the Floyd Campus, the annual training exercise for second-year Nursing students incorporates real-world situations that healthcare professionals may encounter in the field, with this year's exercise utilizing a damaged, decommissioned airplane along with a fire and smoke display. In addition, the rainy conditions of the day added a new variable to the scenario. 
Dental Hygiene students, first-year Nursing students and students from Chattooga High School performed as plane crash "victims" with varying degrees of injury.  
Assistant Director of Nursing Shea Walker explained the goal of the exercise is for students to apply what they have learned in the classroom to a clinical setting.  
"In partnership with our community and faculty, we were able to simulate disaster victims and students were able to apply the SALT Mass Casualty Triage Algorithm for assessing patients to a live scenario," Walker said. "The rain really added to the realism of the event and created another factor for the students to work through. For example, some students struggled with their paperwork getting wet, but they could not let those factors distract them from treating patients."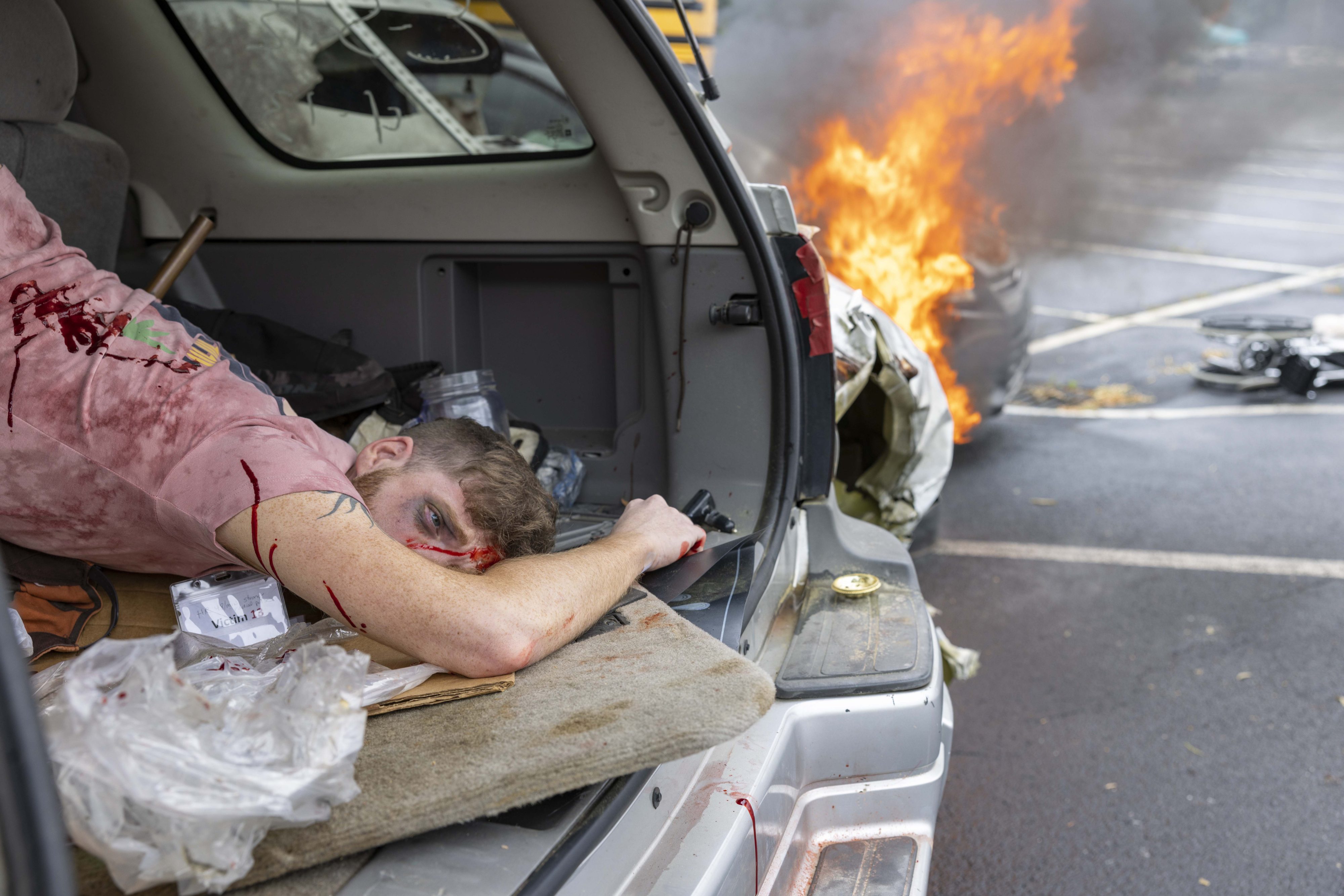 Kayla Cochran, who has a background in government service, enrolled in the Nursing program because she wanted to find her niche amongst the various facets that help serve her community. She said while the training exercise was intense, she was ready.  
"I think with any mass casualty or disaster event it looks chaotic on the outside looking in, but when you know you have the skill set it's a little easier because we have been prepared in our time here in the Nursing program," she said.  
But there was a short window of time for students to apply that knowledge. 
"One of the things with our exercise, we treat our triage victims and have 15 seconds to make a decision as to what we're going to tag them as, and what level of care they need initially that we can see," Cochran said. "And then when we get [the victims] off to the side and are able to be more thorough, we realized a lot of the [victims] had some serious injuries and we might not have caught that in those 15 seconds."  
She said working with local entities like Atrium Health Floyd, Floyd County Emergency Management and the Rome/Floyd County Fire Department helped students gain a different perspective in regard to patient care. 
"As Nursing students, we're taught one way, paramedics are taught another, and just using our combined experience and different skills come together for the safety and well-being of the patient," Cochran said. "Everything we do, beginning with the brief look up and down of your patient and using your assessment skills goes such a long way to getting them to where they need to go in a mass casualty event like this."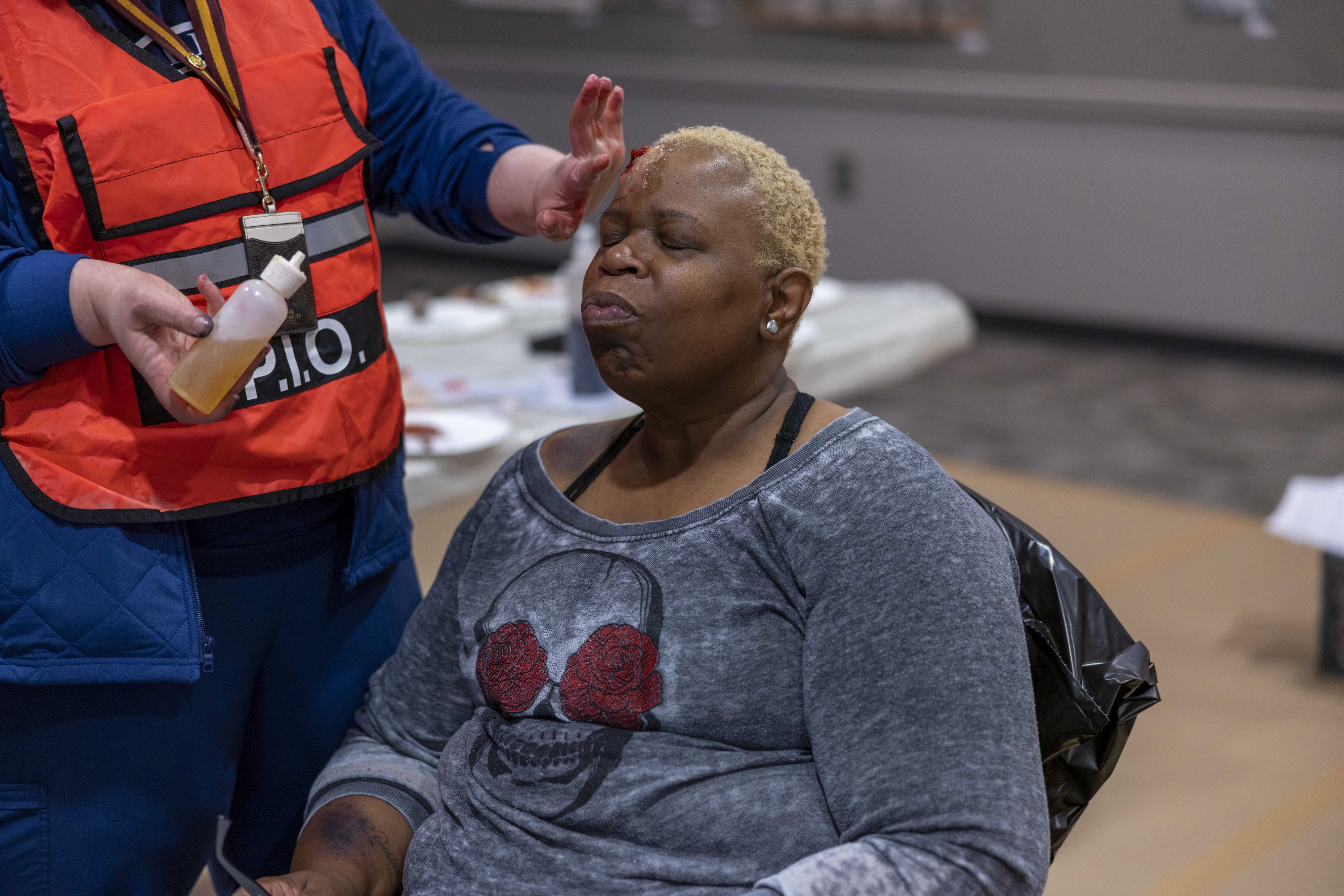 Nursing student Tyasia Riddick said she appreciated the evaluation and categorization process of the exercise, as well as the enthusiasm of the "victims" crying out for treatment. 
"I definitely learned a lot about mass casualty events and prioritizing who gets care, which is really the number one thing we were supposed to learn," Riddick said. "I also learned about various types of equipment and what to do when you don't have the resources that you do when you're in a hospital."