Nursing students at Georgia Highlands College (GHC) recently learned how collaboration and keeping one's composure are as important as their technical knowledge when it comes to serving others in times of crisis.
In an annual disaster scenario simulation exercise held this week at GHC's Heritage Hall site, students were tasked with triaging "victims" of a mock tornado that "struck" both the first and second floors of GHC's Heritage Hall site.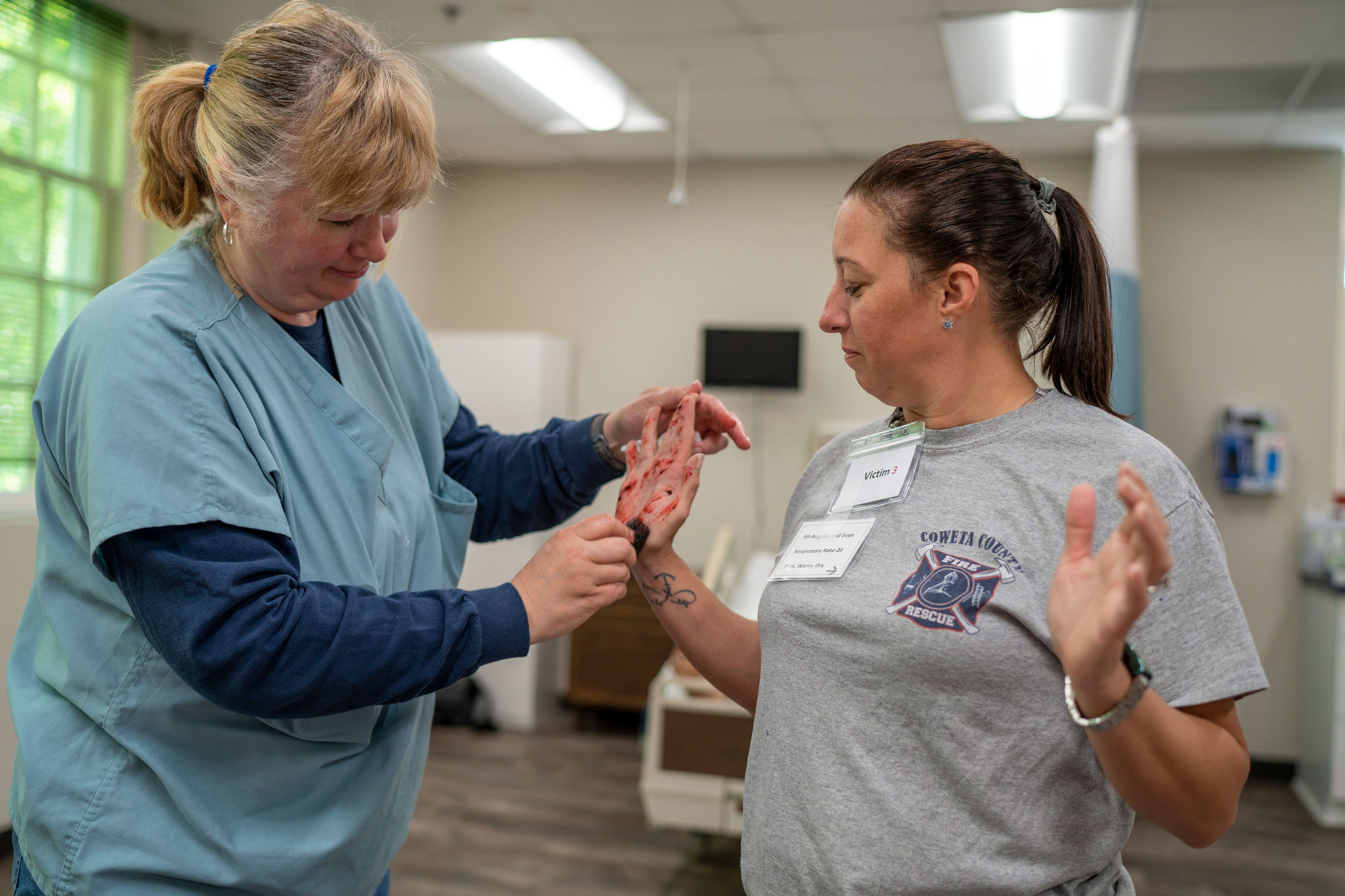 With the inside of the building reflecting damage — such as overturned tables and chairs as well as debris and areas lined in police caution tape – small groups of students were sent into the building to triage what was then an unknown number of individuals. Students sought to find staged tornado victims ranging from infants [dolls] to adults and with injuries ranging from light bruising to cranial damage.
From there, students determined what type of care these individuals needed, using a color-coded system ranking severity of injuries.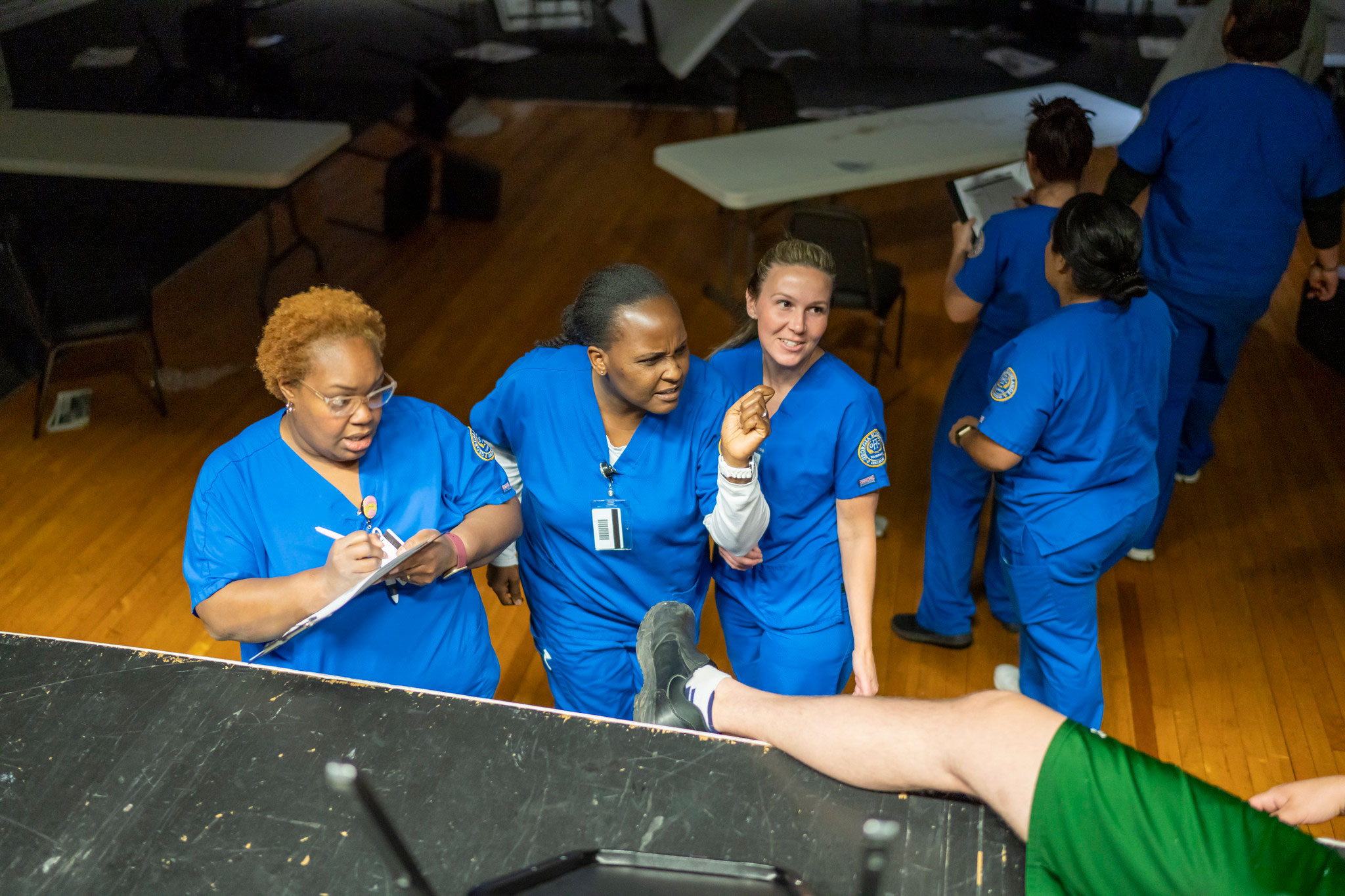 Nursing student Lacey Barwick said while she felt prepared for the task of triaging patients using the SALT (Sort, Assess, Lifesaving Interventions, Treatment/Transport) method, she did not expect the level of variables in the simulation—such as dark rooms, loud noises and people running in different directions. However, she enjoyed the simulation because she said it gave her a better idea of what she may encounter in the future.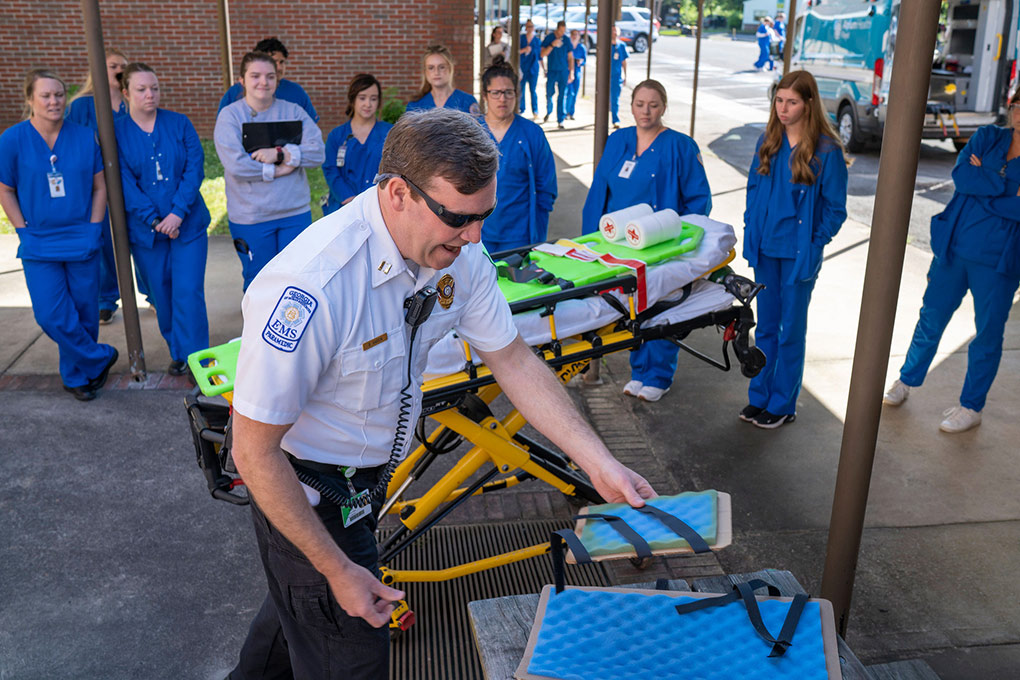 Nursing student Dana Arteaga described the simulation as informative as it reflected how real-life casualty events can differ from classroom simulations.
"We learned how to handle the triage scenario, but actually going into what was like a real-life situation was really eye opening for me," Arteaga said. "It's shocking how fast you have to move and how much information you have to get in such a short amount of time. I had an idea in my head of how it was supposed to go and what I was supposed to do and what questions I was supposed to ask, but when you're actually in the scenario it's a lot different."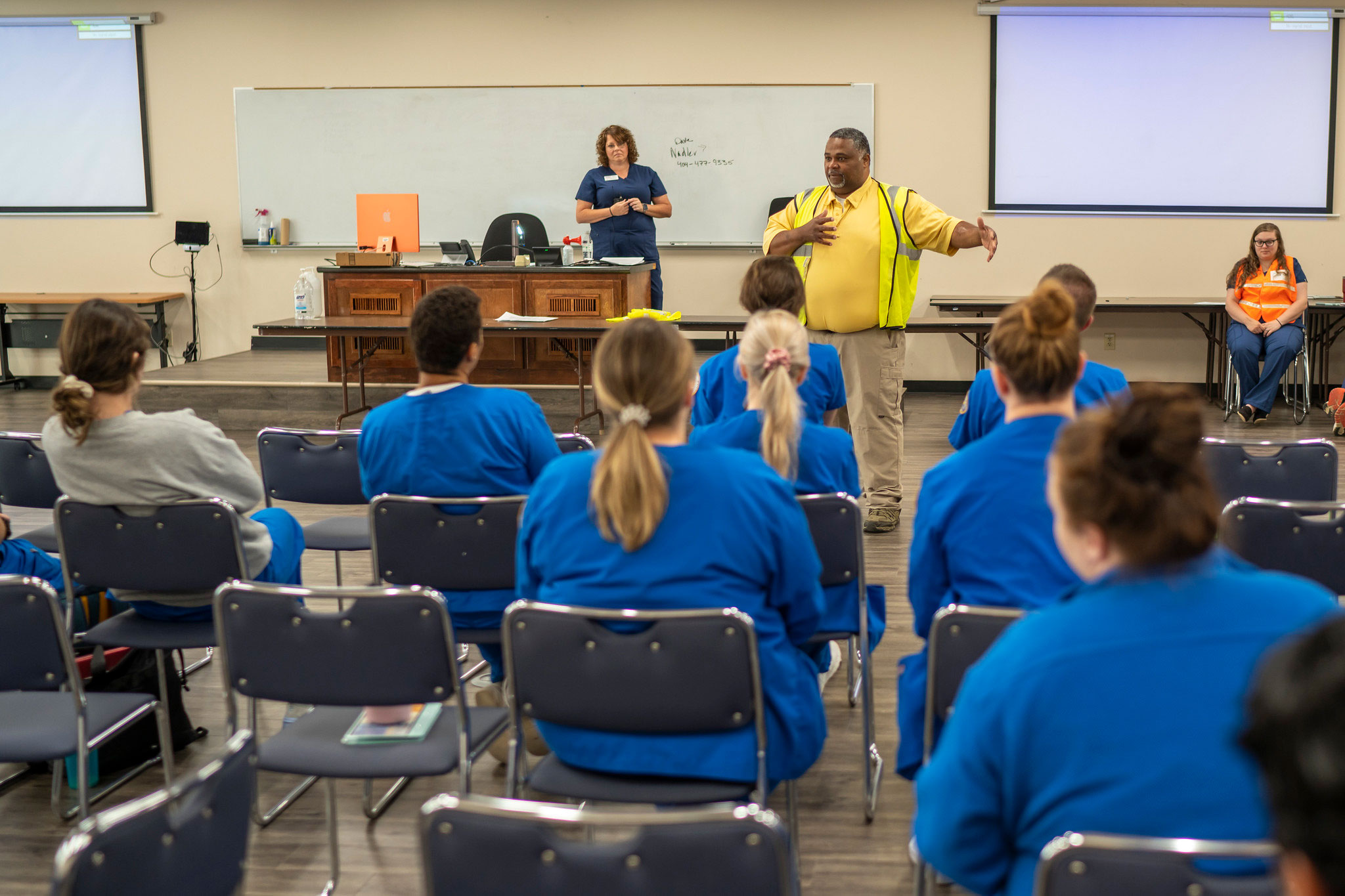 While students did not treat or move patients, Arteaga said observing Floyd Emergency Medical Services (EMS) representatives, who provided training on the proper stabilization then transportation of patients in mass casualty or disaster events, was also a valuable learning experience.
"It was important to me to get an idea of what [EMS] does when they are in these types of situations and how they address taking care of a patient in the field, then getting the patient to safety," Arteaga said.
Nursing student Randy Clower said he felt his nursing classes did a great job in preparing him for tackling the scenario, but also said the situation taught him how addressing a situation in real-time requires forethought and interpersonal skills.
"We had a class specifically on SALT triage and going through the colors [ranking level of injury], and we also had a test and mini quizzes with our teachers to prepare for the simulation, so I felt like I was pretty prepared," Clower said. "However, when you walk in and people are screaming in a live-action situation, you have to deal with people's personalities and that can be pretty intense."
One element of the day's exercise that Clower said he will always remember and apply is the art of collaboration.
"We needed each and every team member to address the situation and see what was needed. We had to put all our brains together and apply what we learned to best serve the patient," Clower said. "We had about 2 minutes to plan and established clear direction on where each of us were going. If one of us found a patient, we would call out and the whole group would go to the patient, use our expertise and determine what was going on."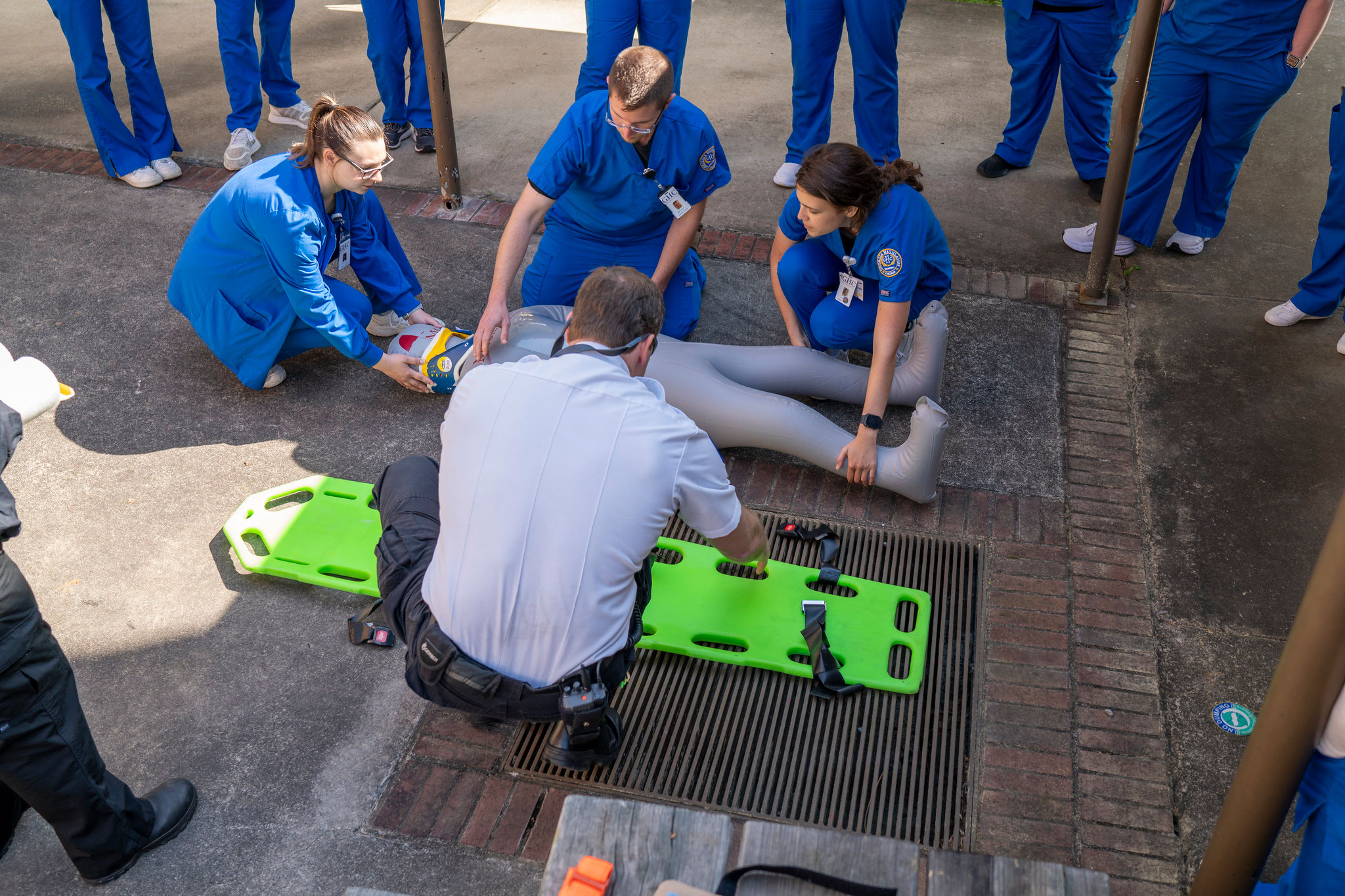 The day-long event included the assistance of the National Weather Service, who provided a tornado education video recording and a Q&A portion of the event, as well as Floyd County Emergency Management, Floyd EMS and the Rome-Floyd County Fire Department.
"Today's simulation was a High Impact Practice that helped give our students the opportunity to apply what they have learned in the classroom to a real-world scenario," Assistant Director of Nursing Shea Walker said. "These students performed well under pressure and learned that in the field of healthcare you are always having to collaborate to solve problems, so it is important for students to gain that type of experience."