After his keynote address during the recent Academic Showcase, Captain Orry Young was presented the first Georgia Highlands College Distinguished Alumni Award.
Following his graduation from GHC in 2011, Capt. Young transferred to the University of Georgia (UGA) on a ROTC scholarship. Capt. Young says Georgia Highlands College allowed him to gain skills both inside and outside of the classroom that he has applied to his growing academic and professional pursuits, including seven years of active-duty military intelligence. He has completed three combat tours in Afghanistan and Syria.
He stated the two biggest lessons he took from GHC were being able to develop a convincing argument and to always hone one's critical thinking skills. He has exercised both while serving as a Senior Intelligence Officer for the U.S. Army, briefing high-level generals overseas with pertinent and complex information.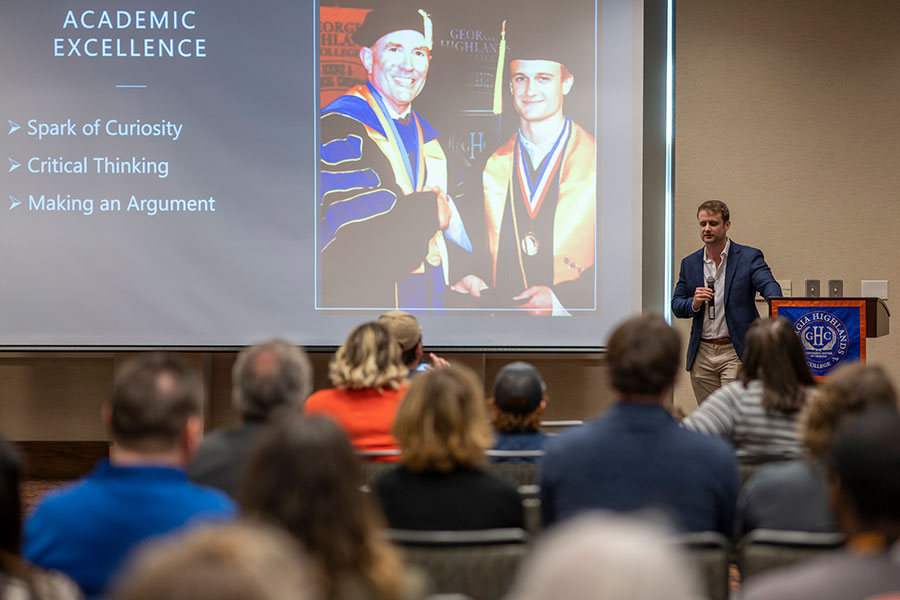 "This college is still a very special place. For me, GHC served as a foundation for not only my academic career but my professional career and personal life," Capt. Young said. "The level of instruction you get at Georgia Highlands College set the foundation for me to be able to discern fact from fiction, and to be able to make an argument and to prove your case."
In addition, he says GHC led him to professional development opportunities that helped him with skills such as leadership, teamwork and communication. For Capt. Young, an early leadership role was serving as president of GHC's Phi Theta Kappa Alpha Psi Omicron Chapter.
"You don't realize the way being involved benefits you personally and benefits the people around you," he said.
Capt. Young described receiving the first GHC Distinguished Alumni Award as a "great surprise."
"This award is a huge deal to me because I have thought so highly of Georgia Highlands College over the years and it's nice to know the people here have invested so much in the alumni community as well," Capt. Young said.
Capt. Young is currently completing his Master of Business Administration this spring at Emory University and will then start a career in Marketing and Strategy at Microsoft in Atlanta.