From 'water bears' to educational board games to live music, the first Academic Symposium at Georgia Highlands College saw more than 100 students, faculty and staff converge at the Cartersville site for a display of academic research, presentations and projects.
Through research presentations, posters and exhibits, members of the GHC community were able to share their work, which included the use of High Impact Practices (HIP) and the implementation of Course-Based Undergraduate Research Experiences (CUREs) across multiple programs of study.
"The Academic Showcase is a day to celebrate our faculty and students for the tremendous amount of work and research they have done over the past year," Interim Provost Sarah Coakley said.
The event included performances by GHC's music ensemble, The Highlanders, and featured keynote speaker and GHC alumnus Captain Orry Young.
Dean of Libraries and Testing Julius Fleschner said event co-organizers were impressed with the number of presentations and attendees.
"Most importantly, students, faculty, staff, administration and community members – everyone was able to learn something new and engage in companionship with one another," Fleschner said. "Now that the Charger Family has experienced the first Academic Showcase, I fully expect it to become a centerpiece of how we celebrate each other at the end of each academic year."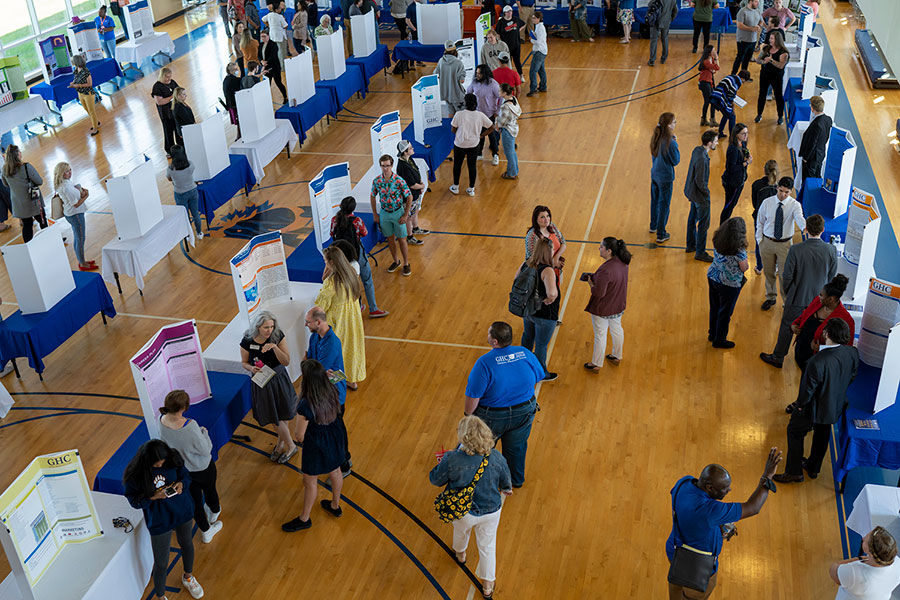 In addition, the showcase included an awards ceremony recognizing the following:
Oral presentation winner Katie Weatherford for her presentation, "Everybody Loves Moral Philosophy Professors" followed by Jared Ponder, John Thomas Tapp and Trinity Young for their presentation "Barcoding Life: Scientific Discovery and Student Impact in a CURE Biology Lab."

Exhibit presentation winners Michael Roberts, Guillermo Vazquez, Heidy Mendez and Miriam Lister for their exhibit "Minecraft Education Addition," followed by Lyzette Schott for her exhibit "Family Communication Book for Kids and Their Grown-Ups."

Poster presentation winner Samantha Lewis for her poster, "Georgia Highlands College Leadership," followed by Cheyenne Bailey, Hugo Coronado, Delian Estrada and Preston Gilstrap for their poster, "Retention Ponds are a Bacterial Ground for Populations that can be Manipulated into Antibiosis."
Read more about the 2022 Academic Showcase this week at ghctoday.highlands.edu