Academic Showcase students at Georgia Highlands College created a game where the goal is to make the most outrageous life story in a nod to both the board game "The Game of Life" and Franz Kafka's novella "The Metamorphosis."
Learn more about the Academic Showcase by clicking here.
Michelle Pineda-Tinoco and her classmates Anna Hough, Charlotte McGinnis and Grace Silva Parra created the project for their World Literature II class.
The game, titled "Life Goes On," satirizes "The Game of Life" and is based on author Franz Kafka's novella "The Metamorphosis," in which the main character wakes up one morning to discover he transformed into a huge insect, creating a sense of existential dread.
"We thought it was so crazy that [in "The Metamorphosis"] the character had to go on with his life, but he couldn't really go back to work or anything like that," she said. "We thought things like that happen in real life, just not to that extent – but random things do happen."
Like "The Game of Life," players select cards depicting their life event or situation. While some cards depict common events like having a baby, other situations are satirical, like being offered a free tattoo by a talented artist but with your enemy selecting the design.
"The game places you in unlikely events in your life that are sometimes realistic, and are sometimes a far reach," Pineda-Tinoco said. "As you play through the game you get a story, and by the end of the game whoever has the craziest story wins."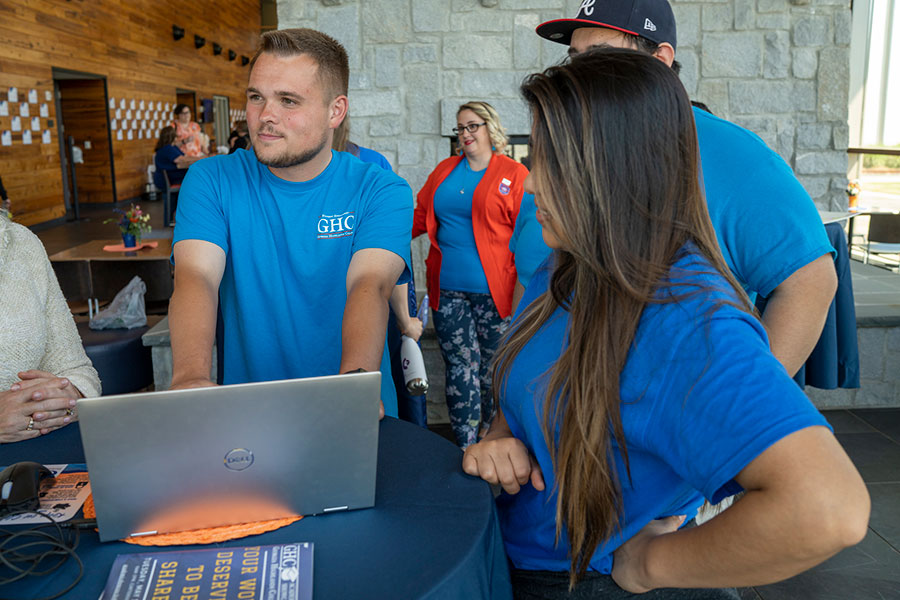 Other exhibits during the Academic Showcase included a family communication book, a 3D model of the brain, live music, a digital painting and poetry – and even a full episode by Thailea Brinkmann, Faith Schmidt, Hayley Brewster, Trinity Neely and Mekaela Martinez incorporating Greek mythology with the popular TV show "The Bachelorette" to create a short spoof video similar to a Saturday Night Live sketch.