Over 30 straight wins. Ranked #3 in the nation. GCAA Champions. NJCAA Southeast District 1 Champions. The NJCAA District 1 National Basketball Championship Game.
The Lady Chargers season concludes with accolades and new trophies in the case outside the Georgia Highlands College gym in Rome where they played every home game – a season to be proud of, a season that will be remembered.
With the roaring cheers of those streaming from Georgia alongside those who traveled to Texas with them, the Lady Chargers arrived in Lubbock at the RIP Griffin Center to battle it out against multiple teams for a chance at the national champion's title.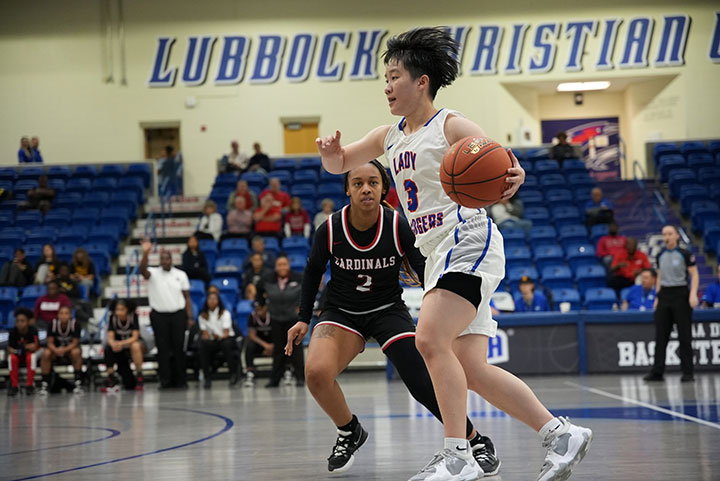 The Lady Chargers defeated three teams in their quest, including Hutchinson, Trinity Valley, and Jones.
In the final game against Tyler Junior College, the Lady Chargers fell behind by 12 points with less than three minutes remaining in the 4th before rallying back and closing the gap by 6 with less than two minutes remaining. Ultimately, Tyler Junior College moved ahead and closed out the game with a final score of 92-80.
As the season ended, the Lady Chargers can proudly say the team has gone further than any other team before them – with the men's basketball team making it as far as the semifinals in the national tournament in 2015.
Additionally, the women's basketball team at Georgia Highlands College has seen even more success on and off the court.
Coach Brandan Harrell was honored as "Coach of the Year," and Lady Charger Jashanti Simmons was honored as "Player of the Year."
And in this special feature on Sandra Lin, achieving academic success doesn't come second to the game for the Lady Chargers.
For more Charger action, visit ghcchargers.com to keep up with the men's and women's basketball teams, as well as the softball and baseball teams.