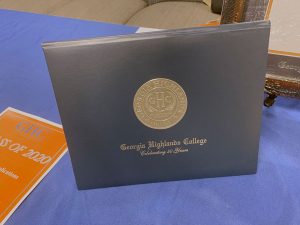 There is a $25 fee for all replacement diploma requests.  Diplomas not picked up or received within a year are subject to the replacement fee.
A replacement diploma may be obtained by submitting the Diploma Reorder form, with payment, to:
Georgia Highlands College Registrar
3175 Cedartown Hwy SE
Rome, GA 30161
You should give all pertinent information, such as degree earned, name and year of graduation and enclose your check or money order for $25.00, made payable to Georgia Highlands College. Replacement diplomas bear the signatures of the current officials of the College and University System.