Georgia Highlands College Commencement 2021
2021 Commencement Ceremonies
Thursday, May 13th – 10am and 6pm
Thursday, May 13th – 3pm (Nursing Pinning and Commencement)
Floyd Campus Gymnasium
Click Here for more Ceremony Details
The GHC 2021 Graduation Commencement RSVP Form Now Closed
NOTICE:  Due to COVID-19 restrictions and limited seating only students who graduated Fall 2020 and students who will complete all course work by May 2021 will be allowed to participate in the Spring 2021 Commencement ceremony.
For the first time in many years, the Georgia Highlands College commencement ceremony will return to the Floyd Campus. This is both timely and meaningful in tradition as outlined below.
GHC's highest priority has been – and will remain – both the safety of our students and of our faculty and staff. Holding an in-person, event with limited seating gives the college the flexibility needed to ensure commencement is implemented with GHC's campus guidelines at the forefront of planning and execution.
Implementing smaller in-person commencement ceremonies during COVID-19 will require careful planning and consideration.
The commencement return to campus is significant because our very first graduate was given a special commencement ceremony in the president's office on the Floyd Campus in 1971. In remembering the celebration of our first graduate's success at the original GHC location, it is a good time to mark this as a new tradition moving forward as GHC concludes celebrating its 50th year and moves into the next 50 years.
Students graduating in spring are evaluated approximately 3 to 5 weeks after all final grades are posted. If you need verification of your degree status, please request an official transcript through SCORE, and make sure you check the "hold for degree posting" option. Those transcripts will be sent out as soon as the evaluation process is complete for all students.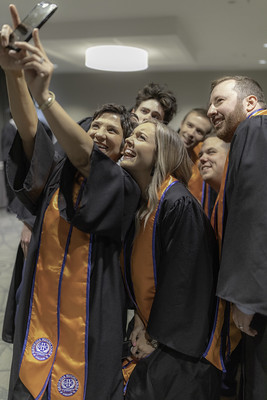 Due to COVID-19 there may be a delays in mailing diplomas.  Please check to make sure your address is correct by logging into your SCORE account.
Names will be printed on diplomas as they are in the system. If you want a different name on your diploma, you must complete a Name Change Form with proper documentation before the end of the degree completion term.