Over the summer, four students at Georgia Highlands College (GHC) spoke to an international crowd of inclusive education, government and career leaders during the GlobalMindED 2022 Conference in Denver. 
The GlobalMindED Conference itself focuses on first-generation college students. 
The students – Jacari Gill, Quentin Leek, Stearlin Lewis and Damani Johnson-Taylor – are all members of Brother 2 Brother (B2B) and the Georgia Highlands African-American and Minority Male Excellence (GHAME) initiative.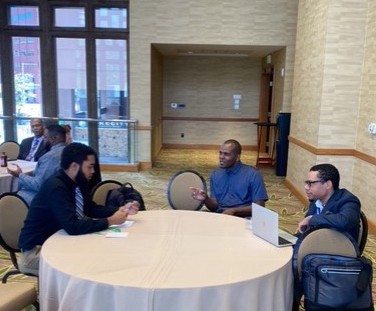 Titled "Taking Charge: Using Leadership Mindset to Break Barriers for African-American and Latino Men at Georgia Highlands College," the overall message of the team's presentation was that expectations are high for members of GHAME and B2B both in academics and in leadership. In addition, the team sat and spoke with other event attendees to gain their perspective. 
"GHAME and B2B members learn quickly to lead meetings, to speak in public, to attend events, to run student organizations and to represent GHAME and B2B and Highlands in the community – sometimes with very little advance notice," GHC Project Director of Inclusion and Equality Jon Hershey said. "That 'Leadership Mindset' helps them move forward at the college, and in their lives outside of college." 
Jacari Gill said after spending two years as a member of B2B, he has become familiar with the leadership and mission of the organization. He said his time with B2B helped him with public speaking, so he was fully prepared to present and engage with fellow attendees. 
"Honestly, the organization does so much and has reaped so many results in its relatively short time active that we spent most of our time trying to decide what we wanted to focus on in the time we had to present," Gill said. "At the end of the day, a lot of it speaks for itself, so most of what I said included my personal story and experiences with B2B." 
From an attendee's perspective, Gill described the conference as a "crash course" in the current state of leadership in minority communities both in the public and private sectors.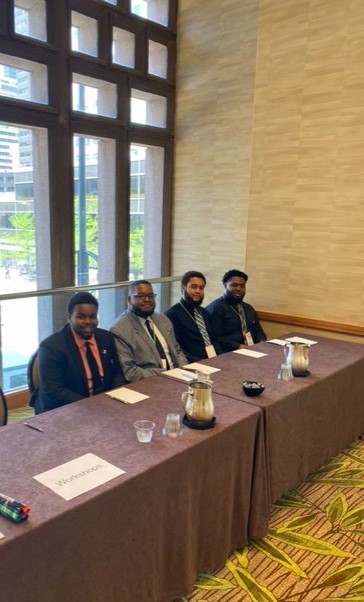 "The keynote panels were especially interesting to me because it's one thing to hear about inclusivity and see statistics on a company's website or their branding, but it's completely different to see these people in person and hear their personal stories of trials and tribulations and also success," Gill said.  
In addition, Gill said he feels the conference helped him feel more confident engaging in public speaking opportunities and taking on additional leadership roles. 
Leading up to the conference, GHAME Coordinator Evan Snelling said the organization hosted a luncheon for the attendees on college's new Marietta site to help to better prepare for what questions they may encounter when talking to diverse groups. 
While presenting at an international conference could be considered intimidating by some, taking on this challenge was one more example of the high expectations set forth by GHAME and B2B.  
"That experience is the main reason Evan and I wanted them to present," Hershey said. "We feel that the more conferences and networking events that students experience, the more likely they will be comfortable in those public spaces."