Trinity School of Medicine is excited to announce its new partnership with Georgia Highlands College, a multi-campus institution with learning facilities located throughout northwest Georgia. This partnership will provide GHC students with a clear, defined path to becoming a practicing MD and allow students the unique opportunity for global education.
In addition to gaining a competitive advantage as a result of this agreement, Georgia Highlands College students will be able to complete all prerequisite courses within GHC's Bachelor of Science in Health Science degree program to gain acceptance into Trinity's MD program. Along with scholarships exclusively available to GHC students, Trinity School of Medicine will provide a streamlined admissions process, granting conditional acceptance to applicants that meet TSOM's academic acceptance requirements. This benefit will drastically decrease the amount of time and effort it usually takes to complete and process medical school applications.
"We are honored to enter into this partnership with Georgia Highlands College and look forward to providing their students with the opportunity to become successful physicians," said Wade Wilson, Trinity's Southeast Regional Director of Admissions. "Both GHC and Trinity are committed to offering a quality education that ultimately results in better access to healthcare for all Georgians. This partnership marks two institutions coming together to help students achieve their goals while at the same time contributing to the solution of Georgia's physician shortage."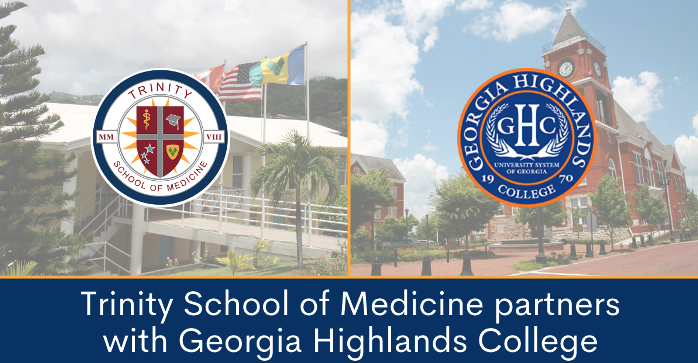 "Something we are particularly excited about is the opportunity for students to study abroad for 16 months at our basic science campus in St. Vincent and the Grenadines and then return to Georgia to complete their clinical rotations in Warner Robins," said Trinity School of Medicine President and CEO Steven Wilson. Mr. Wilson continued, saying "Both Georgia Highlands College and Trinity place a high importance on small class sizes with a low student-to-faculty ratio, making this partnership a natural fit."
"We appreciate this partnership between the Trinity School of Medicine and Georgia Highlands College, a joint effort to bring even greater access to higher education in our region, specifically to students pursuing medical school," said Dean of Health Science Lisa Jellum at GHC. "Graduates of our low-cost program will now have another bridge to continue the high-quality training they need to join the medical field. After completing their studies with GHC and Trinity School of Medicine, graduates can apply for residency programs in Georgia, strengthening our state healthcare workforce and helping our communities continue to thrive."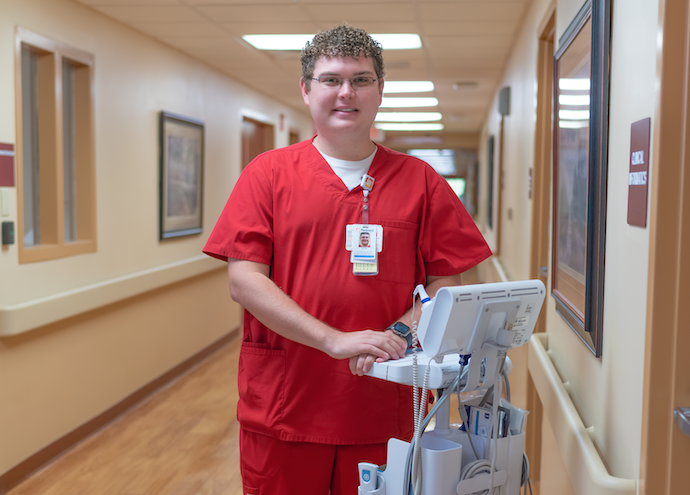 In a few months after graduating from Georgia Highlands College, Dillan Frazier will fly out to the Caribbean to attend the Trinity School of Medicine located at St. Vincent and the Grenadines. Click here to read more.
About Trinity School of Medicine
Trinity School of Medicine is a highly accredited, international medical school located on the beautiful island of St. Vincent. Trinity holds itself to a special responsibility to train highly skilled physicians and to instill in them a passion and dedication to the health and welfare of the communities they will serve. The founders of Trinity set out to build a top-quality medical school recognized for excellence among all medical schools. We achieve that excellence through the personal investment we make in each student who enters our school, starting from the admissions process and continuing through their academic and clinical studies, into residencies and on into medical practice. U.S. and Canadian residency directors know the quality of Trinity graduates, who continue to secure top-choice residencies in the annual U.S. and Canadian residency match programs in a broad range of specialties.
Learn more about Trinity at https://www.trinityschoolofmedicine.org/
About Georgia Highlands College
Georgia Highlands College is a multi-campus, state college member of the University System of Georgia. Founded in 1970 as Floyd Junior College, the college now serves thousands of students from over 30 counties in Northwest Georgia. GHC has five sites in Rome, Cartersville, Marietta, and Dallas, as well as a robust online program. GHC offers over 40 areas of study with associate degree and bachelor's degree options both in the classroom and online. GHC is proud to support the local economy with a regional economic impact of nearly $170 million.
Learn more about Georgia Highlands College at www.highlands.edu