Students in the Nursing and Dental Hygiene programs at Georgia Highlands College (GHC) recently had an opportunity to share research with community partners, classmates and faculty and staff during the School of Health Sciences' first Evidence-Based Practice Symposium. 
Held at the Lakeview Building at GHC's Floyd site on April 14, around 20 groups of students as well as individual students researched medical topics related to their field of study, presenting their findings through poster presentations and oral presentations.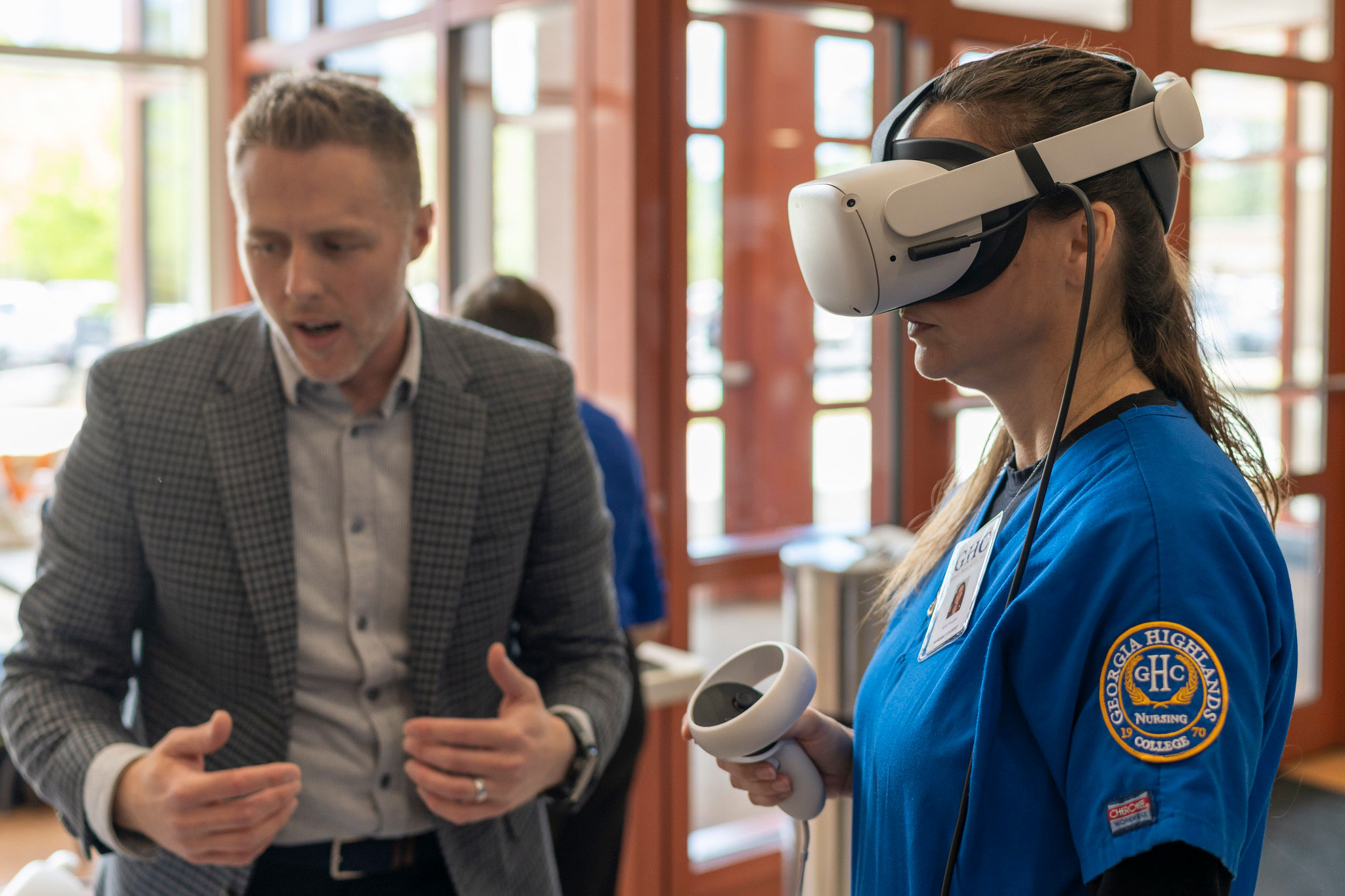 Dean of Health Sciences Lisa Jellum said this first-of-its-kind event at GHC provides students with a platform to engage with community healthcare partners and learn from fellow students while discussing their research. 
"We thought this would be a great opportunity for students to show our community partners their research," Jellum said. "I am very proud that we have community partners that allow our students to really take a look at what makes a difference for patients, the community we serve and then for our faculty and classmates alike."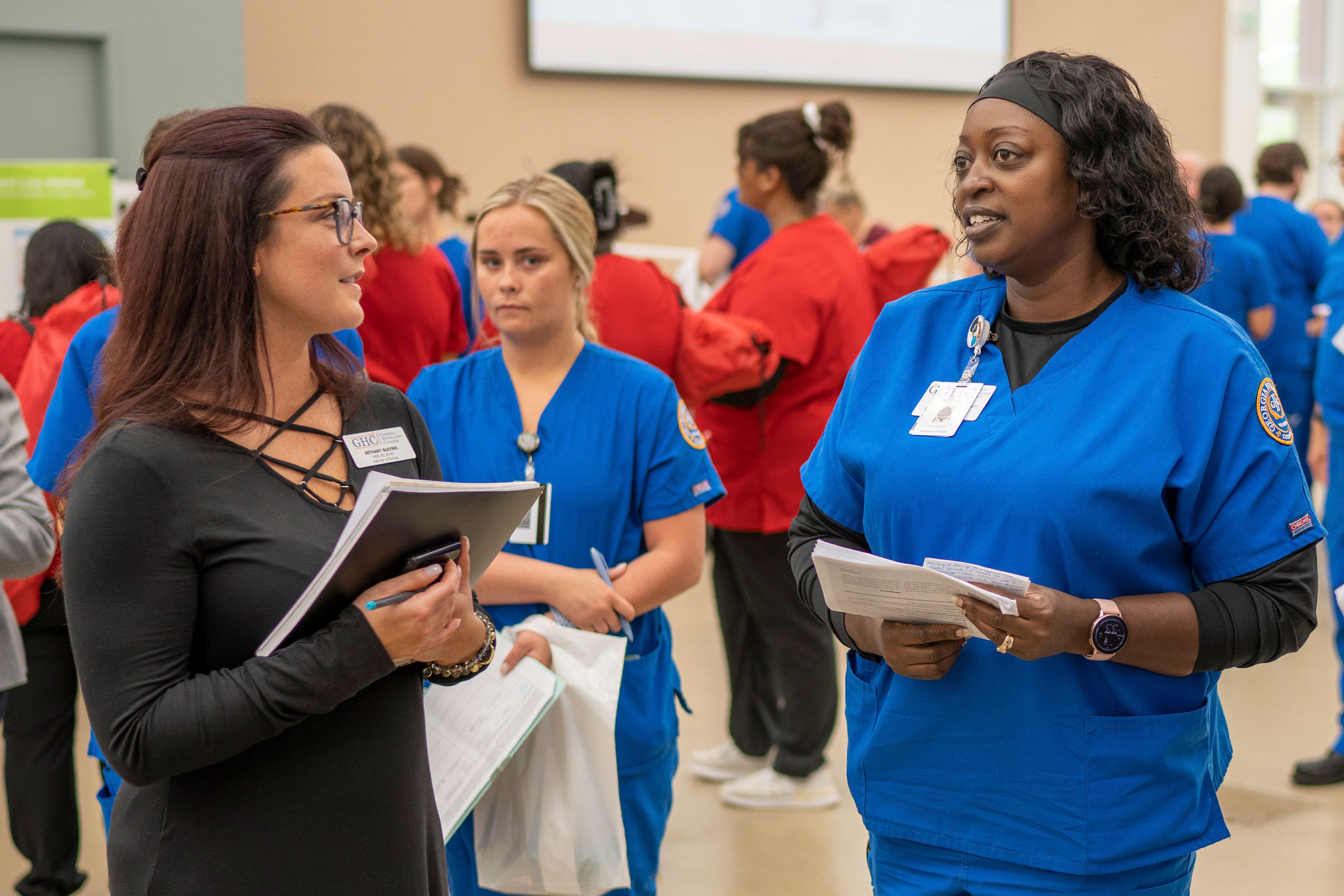 Nursing
Nursing students showcased topics ranging from researching the importance of physical bonding between a mother and her newborn child to the use of disinfecting caps on IV hubs and alarm fatigue in nursing. 
Students Bethany Exum along with Beth Burgess, Kelly Dougherty, Kim Johnson-Diouf, Asha Jones and Alec Nichols researched Music Therapy and its effect on Improving Cardiac Client Outcomes. 
"Music therapy is used with medicinal therapies mainly to aid with stress, and our focus was on the cardiovascular system," Exum said. "What happens is before people go to the hospital, or when they are in the hospital, they have increased stress which affects the heart, and people can have negative cardiovascular symptoms. Researchers have found music can help reduce the anxiety, it can reduce the stress and can create a better outcome for cardiovascular patients."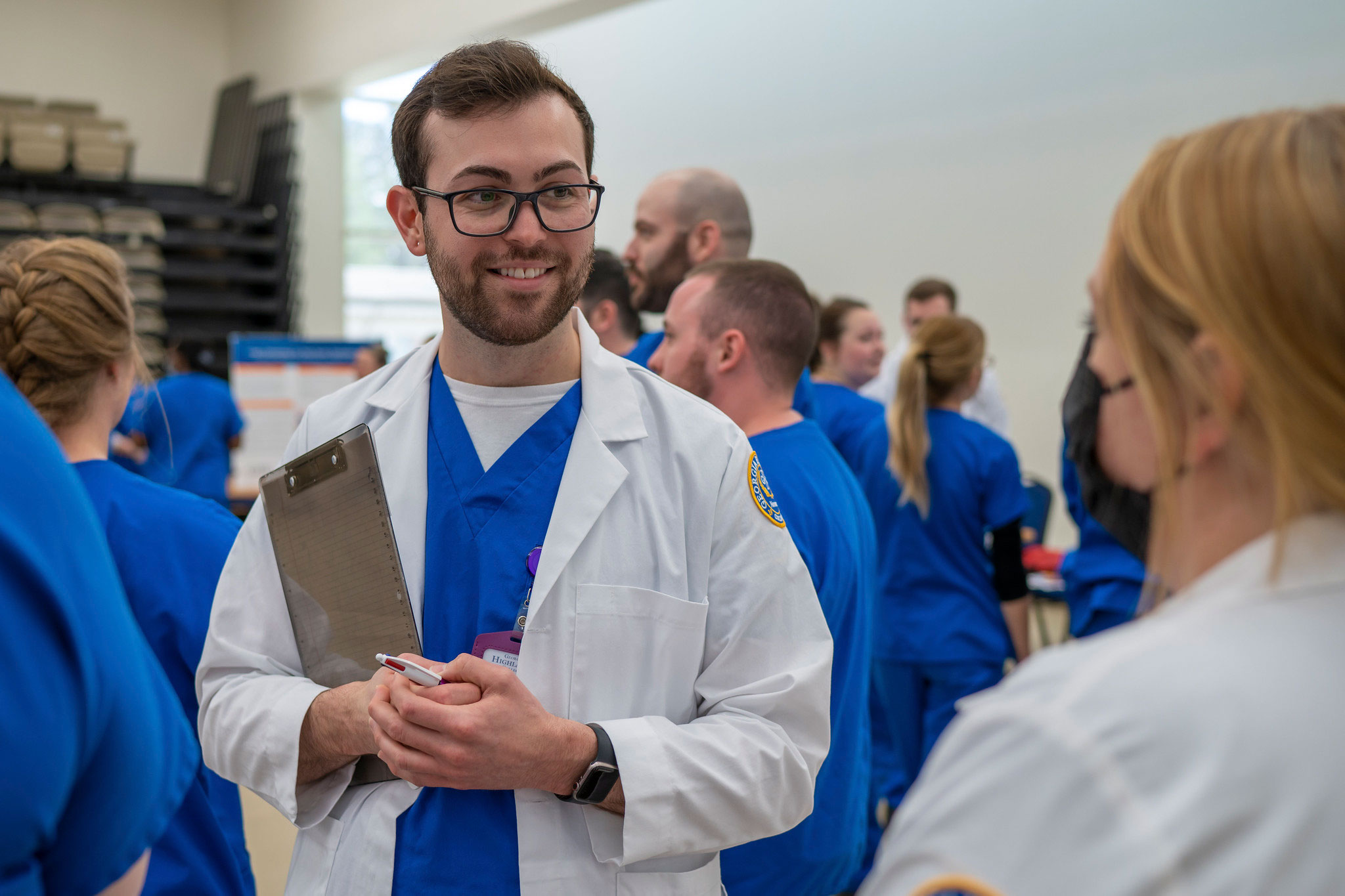 Dougherty said their research found that live music was preferred by patients, and treatment included a music therapist working bedside with patients to individualize care. 
As technology becomes more ubiquitous with younger generations, GHC students Seth Green and Savanna Garrett, along with Brittany Cash, Austin Huddleston, Lindsay Mullen and Ana Peralta researched Child Screen Time and the Benefits of Reducing Screen Time in a Pediatric Population. 
"The research showed that in recent years screen time, and what is considered appropriate screen time, has been increasing for children, but with COVID and more children learning from home, that research stopped as screen time increased," Green said.  
Garrett said in their research they found that schools, parents and the community can work together to help implement guidelines for screen time, citing incentive programs such as Park RX to help encourage less sedentary experiences for children and to increase social interaction.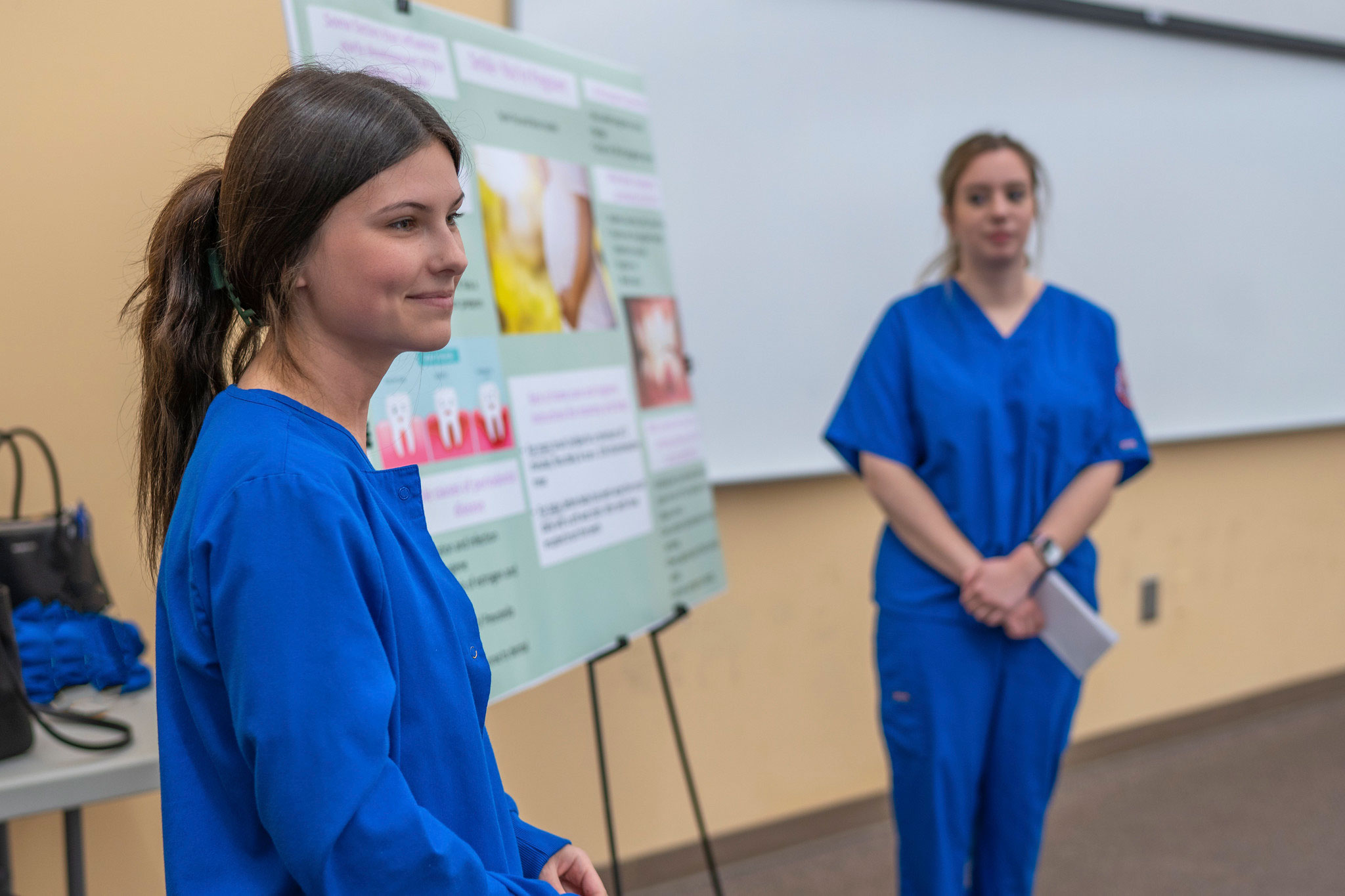 Dental Hygiene
Dental Hygiene students researched various topics as well, including the potential effects of dental-based body piercing to the role dentistry can have in forensic criminal research and the effects of illicit drug use on teeth. 
Alexandro Alcaraz and Morgan DeBoard's research presentation, titled "Have You Heard the Buzz," looked at the use of honey in treating oral mucositis, which is tissue swelling in the mouth – a common side effect experienced by individuals receiving radiation therapy or chemotherapy.  
"We decided to try and find something to alleviate the symptoms of oral mucositis that was safe and inexpensive," Alcaraz said.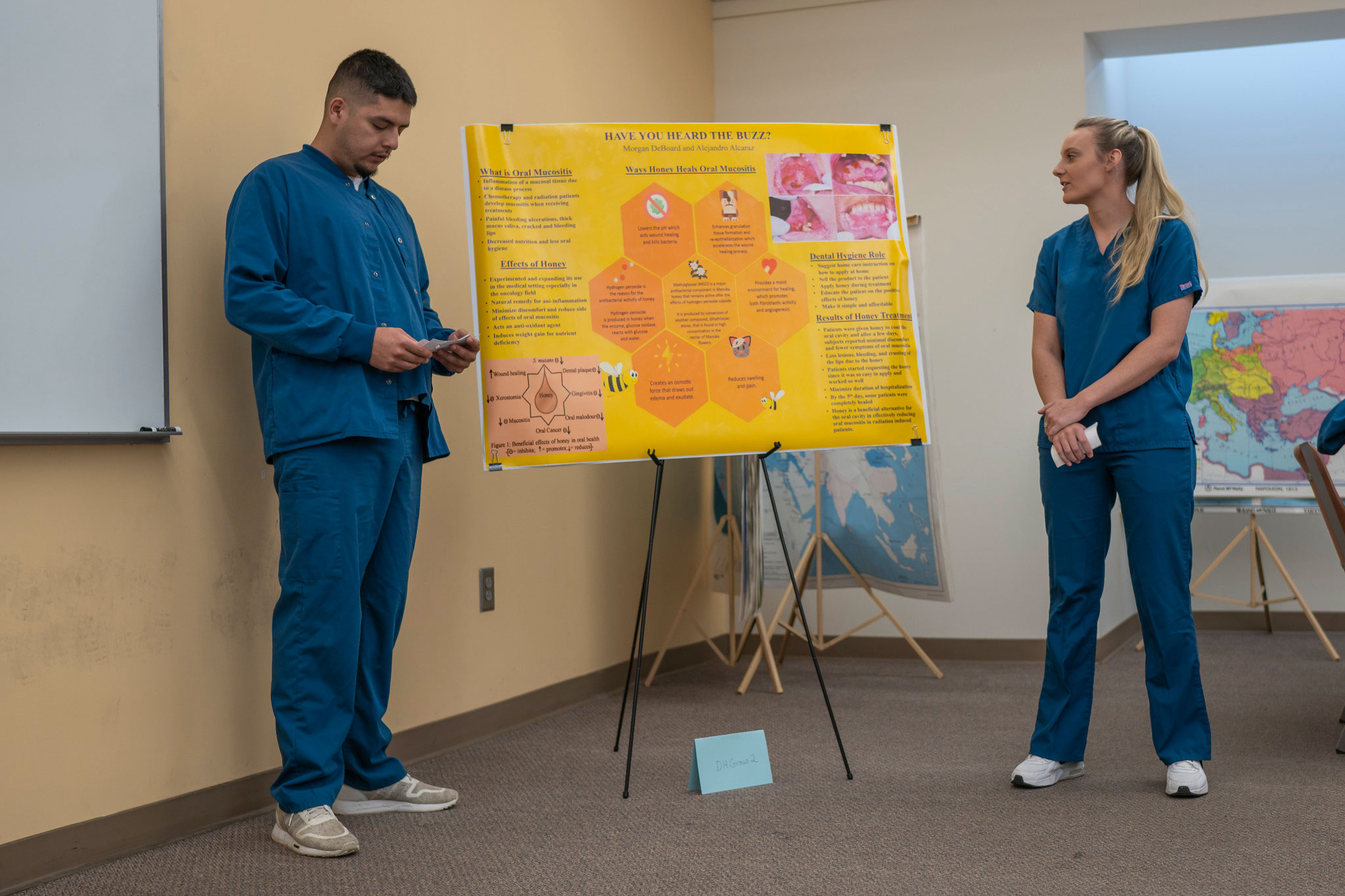 DeBoard said, for example, honey lowers the pH which aids healing wounds and kills bacteria. In addition, honey provides antibacterial properties because it contains hydrogen peroxide and Manuka honey, for example, contains methylglyoxal, which is an antibacterial component that remains active after the effects of the hydrogen peroxide subside. 
Students Taylor Fox and Nina Franklin explored the effects of pregnancy on oral health. 
"With periodontology, early 65 to 75 percent of pregnant women have gingivitis which is part of the early stages of periodontitis," Fox said. "With advanced periodontitis there's a 7.5-7.9 times greater risk for preterm delivery."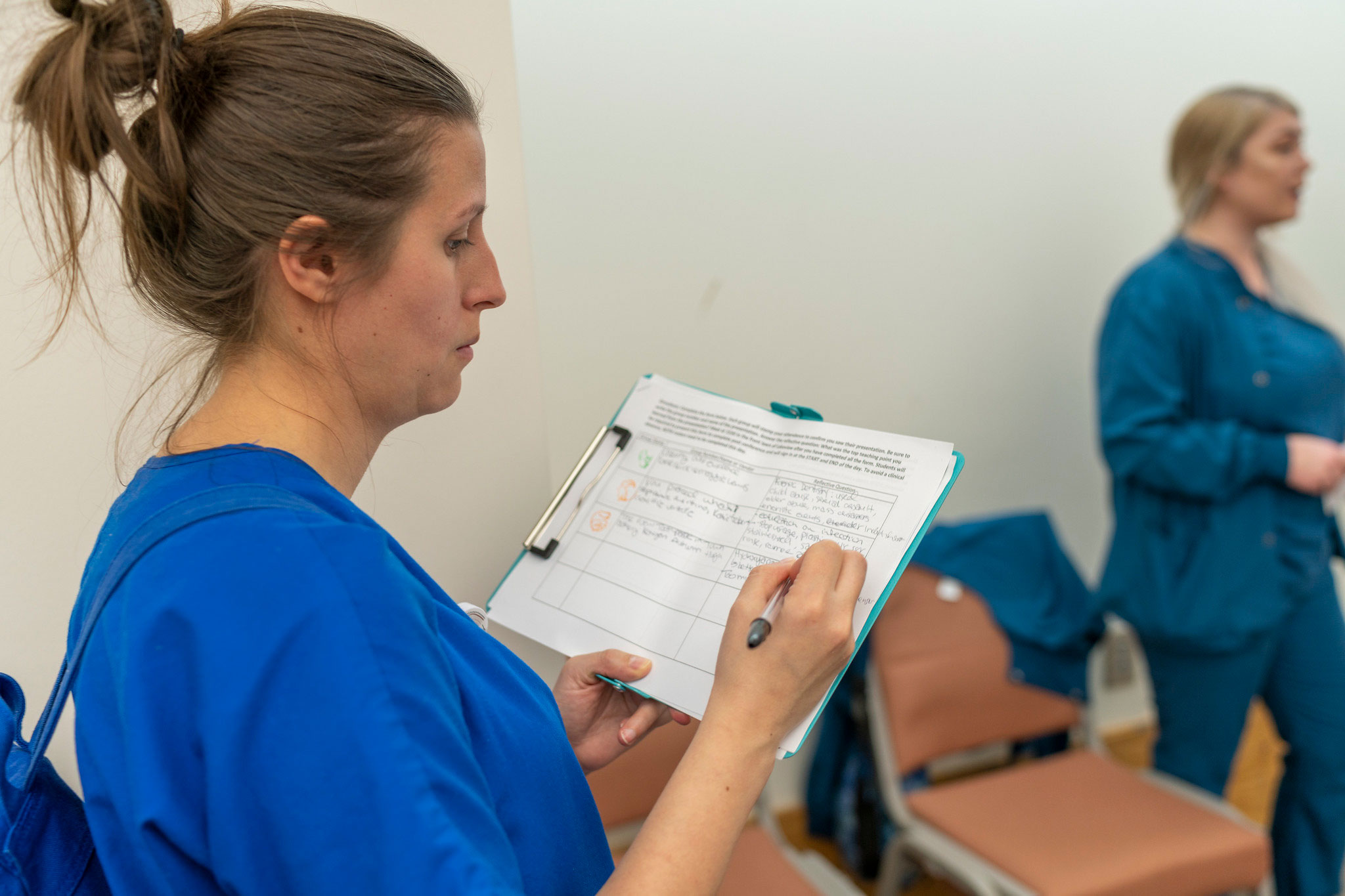 Fox and Franklin explained while periodontitis in pregnant women can be caused by common factors such as poor dental hygiene and infection, elements unique to pregnancy like increased levels of estrogen and progesterone also contribute to periodontitis.  
Other oral health concerns explored by Fox and Franklin included enamel erosion caused by morning sickness and methods for prevention, as well as a benign oral tumor known as pyogenic granuloma.