Online and Mobile Access to the TIAA Retirement@Work Website via Employee Self Service
Recently, some employees were unable to access the Retirement @ Work/TIAA website where changes to voluntary plans and vendor allocations can be made. When trying to connect to the website, employees received a blank screen. TIAA resolved this issue as of July 25, 2019.
Employees who are still unable to access the TIAA website, after following the navigation instructions below, should send an email to oneusgsupport@usg.edu for assistance.
Navigation to Retirement @ Work/TIAA website for both online and mobile devices:
Log in to OneUSG Connect
Click on Employee Self Service at the top of the page
Select Benefits
Click the My Retirement@Work "nest egg" tile to access the TIAA Retirement@Work website
Remember to disable pop-ups on the mobile browser you are using. Some employees have reported issues accessing the mobile website with Safari (Apple). If you have problems with the "nest egg" tile on your Apple mobile device, disable the pop-blockers by following the instructions below.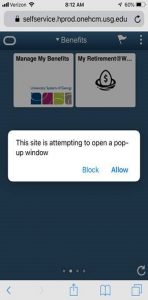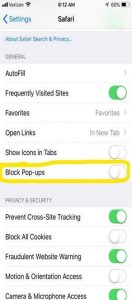 If the issue persists, please send an email to oneusgsupport@usg.edu and include screenshots if applicable.