The Atrium Health Floyd School of Health Sciences at Georgia Highlands College (GHC) held its Evidence-Based Practice Symposium on April 13 at the Floyd Campus, during which second-year students in the Nursing and Dental Hygiene programs presented research posters depicting a broad range of medical treatments and practices designed to improve patient outcomes. 
Defined by Johns Hopkins Medicine as a process to review, analyze and translate the latest scientific evidence, Evidence-Based Practice, or EBP, is considered the cornerstone of clinical practice. 
Dean of Health Sciences Lisa Jellum and Assistant Director of Nursing Shea Walker explained the importance of EBP. Jellum has seen the effectiveness of EBP in her own life after experiencing a torn ACL, which led to an infection and being told she was going to lose her leg, until a nurse applied EBP to ensure a life-changing amputation surgery would not be necessary. 
Walker said the symposium and poster presentations are the culmination of a series of extensive research projects that occur during the students' tenure in the program. Students complete an evidenced-based project each semester in the nursing program. With this final project, students have identified something they have seen in the field that can be improved, or ways to improve patient outcomes.  
"The symposium is also a way for students to share their research with their peers and our healthcare partners in the community," Walker said.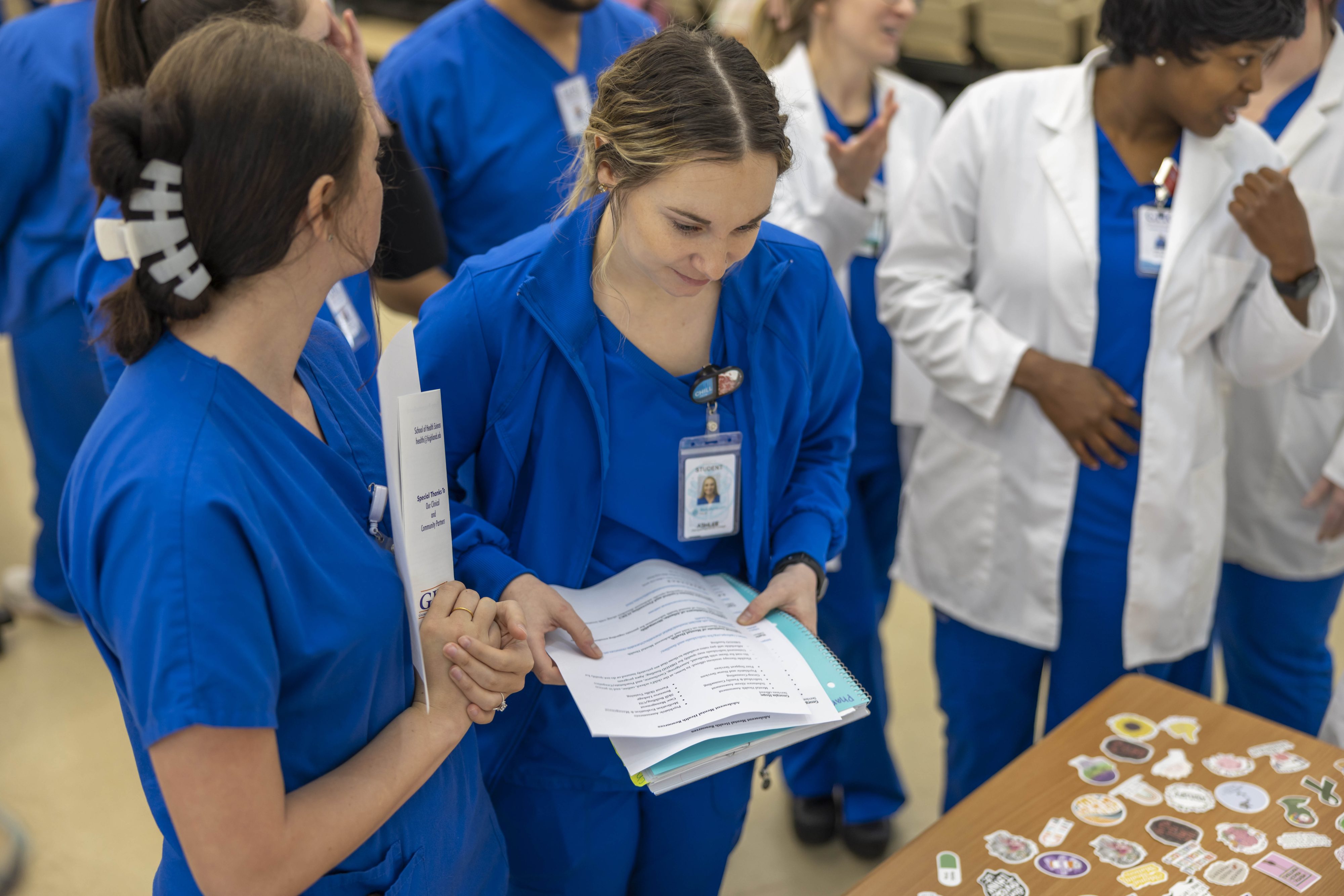 Nursing
Students in the Nursing program at GHC presented research on topics ranging from the effects of the delayed bathing of newborns to patient readmission prevention through follow-up phone calls and much more. 
For example, students Bailey Rowlls, Brittany Layton, Blake Fuller, Carly Wishart, Mackenzie Wilson and Lauren Hamilton presented on the topic "Decreasing Overnight Vital Signs on General Hospital Units to Decrease Delirium."  
Wishart and Fuller said they were inspired to pursue their research based on experience working in rural hospitals and seeing patients struggle with ongoing treatments and screenings which in turn affect a patient's ability to get a full night's sleep.  
They learned by implementing a "delirium bundle" and a Confusion Assessment Method, or CAM evaluation, hospitals can determine patients who are at a higher risk for delirium and implement protocols to reduce the risk.  
"One of the biggest things we saw is if you screen patients and saw a patient has a higher risk for delirium and identify that, then we could … [help] them get a full night of sleep by reducing noise in the units and giving them a quiet environment to heal in, which led to a 70% decrease in delirium happening in those patients," Wishart said.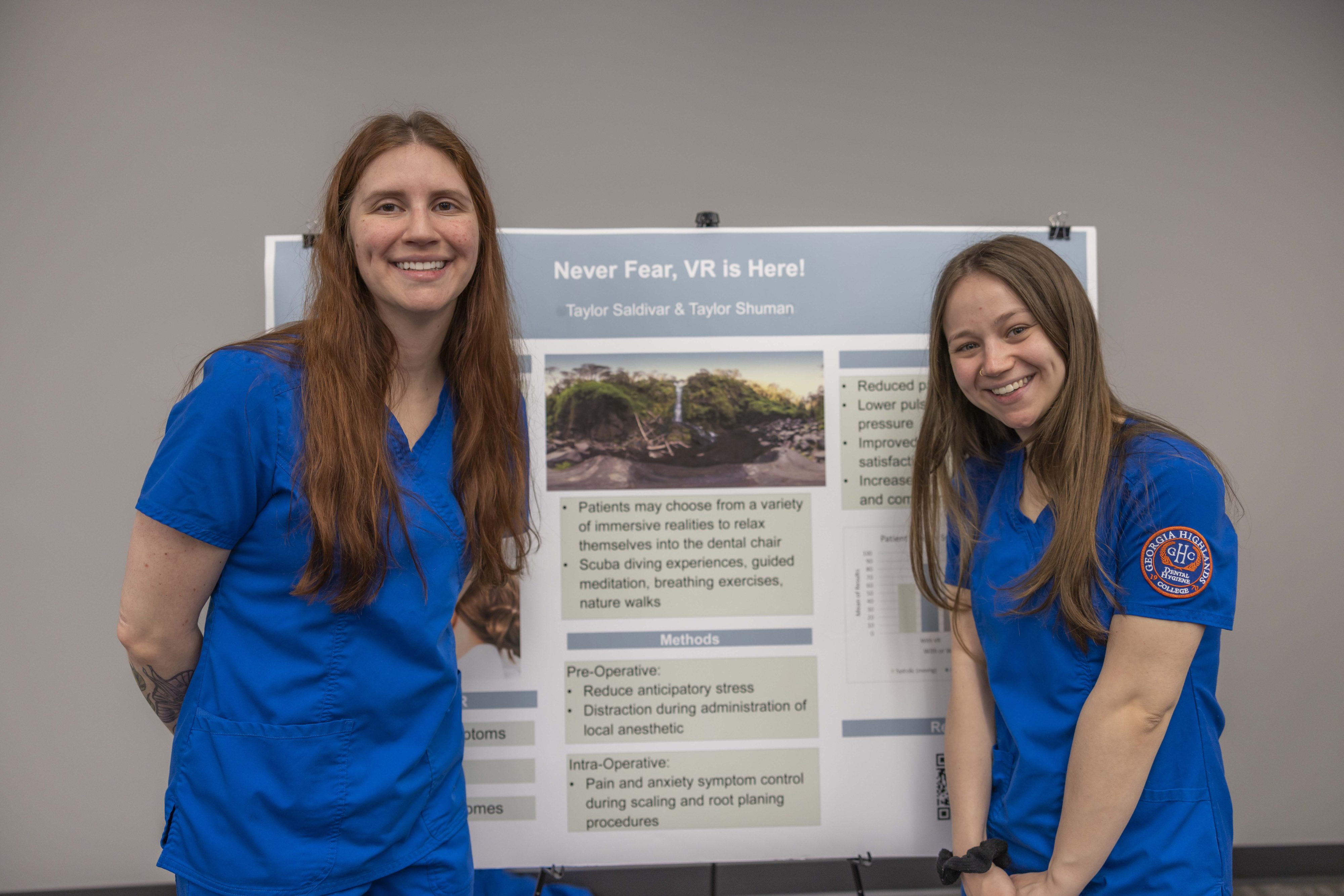 Dental Hygiene 
Students in the Dental Hygiene program at GHC researched and presented on topics ranging from an analysis of bacteria found on a common toothbrush to examining the effects of diabetes on dental health and even the use of virtual reality, or "VR," in treatment. 
Students Taylor Saldivar and Taylor Shuman presented their research titled "Never Fear, VR is Here!" in which they found the use of virtual reality for patients with dental anxiety to result in less pain, lower pulse rate and blood pressure, improved patient and clinician satisfaction as well as increased appointment attendance and commitment to treatment." 
"Our research showed that for patients who suffer from dental anxiety, 5% avoid care entirely," Saldivar said. "These patients will present increased rates of tooth decay, missing teeth and periodontal disease as well as other infections."  
For these patients, Saldivar said, dentists typically prescribe sedative drugs or nitrous oxide, but for patients with certain conditions, these treatments can be contradictive to their care. 
"Virtual Reality has been shown to be a healthy alternative to traditional sedation," she said 
While considered to be a relatively new form of treatment, VR relies on a simple tactic to put patients at ease: distraction. 
"When the cognitive capacity of the patient is consumed by their virtual environment, they are now immersed in visual and audio stimuli and really just takes [the patient] to a new location," Saldivar said.  
See photos from the Evidence-Based Practice Symposium here and a video here.