This November at Georgia Highlands College (GHC), members of the Native American community will be sharing their stories and providing historical and cultural insights as part of a monthlong speaker and workshop series celebrating Native American Heritage Month.  
The series, which is free and open to the public, will begin on Nov. 1 at 12 PM, with guest speaker Gregoria Kishketon, Tribal Elder with the Kickapoo Tribe of Oklahoma and Comanche Tribes providing a virtual presentation on the transition from Native Lands to Service.  
Event co-organizer and English Professor Danielle Steele said the series will educate participants on the Native experience. She said there is a lack of knowledge regarding the Native experience in places such as Georgia, which does not have a federally recognized tribe. 
"As a Native, I want to share our stories with others," Steele said. 
Kishketon is Steele's second cousin. He serves in the Secretary of the Veterans Association as the Native American/Alaskan Native Liaison. He also serves on the board of trustees for Saint Augustine University, a Historically Black College and University that is working to serve Native students as well.   
"Just like our students, Gregorio got his start at a smaller college," Steele said. "He's had an incredible journey, and I think he shows what a great springboard state colleges can be for first-generation students and that there's no limit to what you can do with a degree from somewhere like GHC." 
Other speakers throughout Native American Heritage Month include Benny Polacca speaking on working as a reporter with the Osage Nation, Dr. Tomasina Chupco speaking on Missing and Murdered Indigenous Women's Movement, Mary Crowe on Indigenous Environment Preservation and Steele herself on Kickapoo Myths and Religions. 
"Every time I drive to the Floyd Campus, I pass the sign that indicates where the beginning of the Trail of Tears is," Steele said. "This reminds me of our past, and people may know about that, but I don't know that they are aware of the Missing and Murdered Indigenous Women's Movement or about the Native American Journalism Association that Benny Polacca is highly involved with."   
She said while the series features Native speakers, the topics of discussion are relatable to all. 
"It's celebrating Native peoples, but it is also offering information about the land we live on, career pathways, nonprofit work, social media and more," Steele said. "I hope that our students and community members use this as both an opportunity to learn about different modern Native cultures and to gain valuable insight in areas of interest to them." 
For more information on attending or viewing a virtual session, email studentengagement@highlands.edu.  Read on to learn more about the speakers.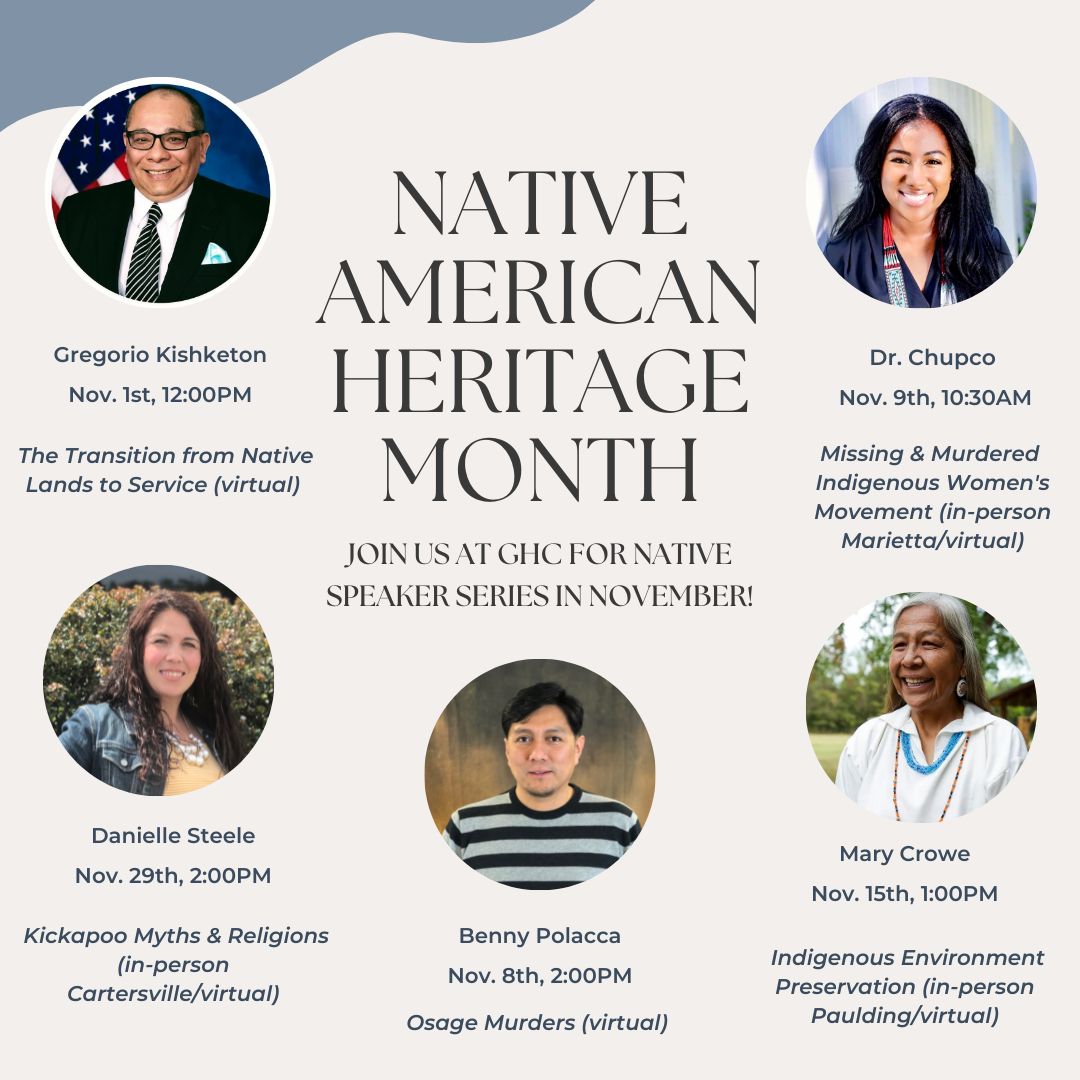 Nov. 1 at Noon (Virtual)- Gregorio Kishketon (Kickapoo of Oklahoma/Comanche) has worked in the federal government for more than 25 year and currently serves as  the Native American/Alaskan Native Liaison (OSVA) at US Department of Veterans Affairs Central Office, He is a graduate of the University of Oklahoma (B.S), The University of Texas (M.S.), Oklahoma City Community College (A.S.) (Hall of Fame 2018) and Texas A&M University Weapons of Mass Destruction. He also serves on the Board of Trustees for Saint Augustine University (HBCU), Board of Directors Alumni Association for Oklahoma City Community College and Board of Directors for Corrections (SPC). He is a tribal elder with the Kickapoo Tribe of Oklahoma.  
Nov. 8 at 2 PM (Virtual)– Benny Polacca (Hopi/ Havasupai/ Pima/ Tohono O'odham) started working at the Osage News in 2009 as a reporter in Pawhuska, O.K., where he's covered various stories and events that impact the Osage Nation and Osage people. Those newspaper contributions cover a broad spectrum of topics and issues from tribal government matters to features. Polacca is part of a news team awarded the Native American Journalist Association's (NAJA) Elias Boudinot Free Press Award in 2014 and other NAJA Media Awards and Society of Professional Journalists Oklahoma Pro Chapter awards for news coverage and photography. Polacca is an Arizona State University graduate and participated in the former American Indian Journalism Institute at the University of South Dakota. He previously worked at The Forum newspaper covering the Fargo, N.D., region as the weeknight reporter. 
Nov. 9 at 10:30 AM (Marietta Campus) – Dr. Tomasina Chupco  (Seminole Tribe of Florida) is an Afro-Indigenous (African American-Native American) advocate for Indigenous and African American womxn and the Founder of Indigenous Intentions, a brand that aims to amplify voices within marginalized communities by supporting nonprofit organizations and movements through the sale of jewelry with cultural ties and awareness. She holds a Doctorate in Education and is a Cultural Educator, Trauma Informed Community Healing Strategist, Co-Chairwoman of the Healing Symposium and National Consortium for Indigenous Economic Development 40 under 40 Award Recipient.  
Nov. 15 at 1 PM (Paulding Campus)– Mary Ella "Missy" Crowe  (Eastern Band of Cherokee) was born and raised in Cherokee, N.C., by parents actively involved in social work. Mary is an activist for Grandmother Earth and helped to establish the Indian Child Welfare Act. Her activism and volunteer work focuses on climate concerns and Indigenous youth issues. She is coordinator for the Eastern Cherokee Organization (ECO) Cherokee, N.C., and the Southeast Regional Representative for the Indigenous Environmental Network. She lives on her traditional lands at the Qualla Boundary of North Carolina. 
Nov. 29 at 2 PM (Cartersville Campus)– Danielle Steele (Kickapoo of Oklahoma) has over a decade of experience in higher education. Currently, Danielle serves as the English Department Chair at Georgia Highlands College. Her research focuses on trauma in Native literature with a specific emphasis on boarding school experiences. In addition to her academic work, Danielle writes fiction and poetry. Her most recent work can be found in "LitBreak" magazine, and she is currently focusing on publication of her first novel. Her hobbies include running to raise funds for Landback movements, volunteering to support local literacy organizations, spending time with her family and reading voraciously. Danielle is a descendant of boarding school survivors from Fort Sill Indian School and Carlisle Industrial School.