Welcome to Panama!
Georgia Highlands College will have a short-term study abroad program to the country of Panama during the July Fourth week (Friday, June 28-Saturday, July 6) of 2019. Panama is a very vibrant Latin American nation. The nation's capital Panama City is bustling hub of trade and business in Central America. The city's modern skyline reflects its central role in global commerce, while its rich ecology, history and culture are a draw for visitors. Panama has something to offer for everyone!
The highlights of our trip include a visit to the Panama Canal and Panama Canal Museum, a train ride that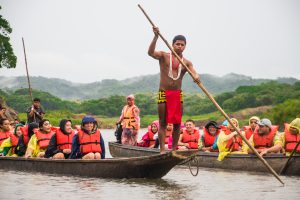 follows the Panama Canal from Panama City on the Pacific Ocean to the port city of Colon on the Atlantic Ocean, a group kayak travel through the Panama Canal rainforest to the indigenous Emberá community, a tour of Panama City, a visit to the US Embassy, Biomuseum visit, healthcare and corporate visits and much more!
Trip Itinerary and Course Offerings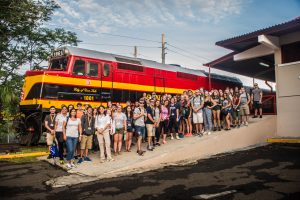 The Georgia Highlands College Panama Study Abroad Program combines interesting site visits in Panama with GHC courses. Students who participate in this study abroad program take courses for among the course offerings linked to the program. The GHC Panama study abroad program has a wide variety of course offerings in disciplines such as English, Spanish, History, Biology, Health Sciences, Business and Logistics and Supply Chain Management. These courses all include a project of some sort related to Panama, which gives students a unique academic experience. Students who go to Panama thus are able to travel and earn course credits that move them closer to graduation. Finally, because the Panama study abroad program takes place during the week of the Fourth of July 2019, a holiday week in which the college does not have classes, students who take other summer classes not linked to the Panama trip do not have to worry about missing class.
For a full trip itinerary, see the following document: GHCPanamaProgramItinerary2019
To see a complete listing of course offerings, see the following document: PanamaCourseOfferings.2019
For a student application to the GHC Panama study abroad program, please download and complete the following application: GHC.PanamaStudentApplication
Business travelers, namely those with a connection to Georgia Highlands College (members of the northwest Georgia business community, GHC alumni, family of GHC students, faculty and staff) may also participate in the GHC Panama study abroad program. The cost for business travelers is the same as for students. The application for business travelers is as follows: GHC.PanamaBusinessTravelerApplication
All student applications and business traveler applications should be sent to Dr. Bronson Long at blong@highlands.edu

Where we will stay: The City of Knowledge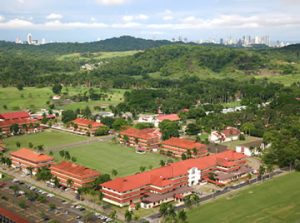 Our partner for the GHC Panama study abroad program is the University of South Florida Health Panama, which is located at the City of Knowledge just outside of Panama City and directly adjacent to the Panama Canal. The City of Knowledge is a former military American military base that has been converted into a large campus that includes NGO headquarters, scientific research centers, classrooms, office space, shopping, a food court, recreation facilities and a large housing facilities for guests. GHC students and faculty will stay in hotel style housing at the City of Knowledge during our entire stay in Panama.
For more information about the City of Knowledge, please see this video: https://www.youtube.com/watch?v=xZ3C_EA3jf8
You can also visit the City of Knowledge's website at the following link: https://apps.ciudaddelsaber.org/portal/en/services/lodging
You can likewise find the City of Knowledge on Google maps at this link: City of Knowledge
Cost of the GHC Panama Study Abroad Program
There are three main expenses to consider with the GHC Panama study abroad program. The first is the price of the courses linked to the trip. As all of these courses are GHC courses, they are at the same tuition and fee rates as other GHC summer 2019 courses, which is $690.01 for three credit hours and $1,088.22 for six credit hours. Students should register for these classes in the same manner as they would for any other summer 2019 classes. Students who have financial aid may use it to pay for their classes.
The second major expenses for the GHC Panama study abroad program is the cost of the trip to Panama. The price of the GHC Panama study abroad trip includes ground transportation, all site visits and museum entrances, bilingual guides, lodging at the City of Knowledge, most meals and health and travel insurance. It does not include airfare, which students should purchase on their own. Directions about airfare are below. The GHC Panama study abroad trip itself is $1,420.
Upon enrolling in the trip, students will pay a $50 registration fee to reserve their spot on the trip. Students may then pay the entire remaining balance of $1,370. Or they may elect to make two payments of $685.
The payment deadlines for the Panama trip are as follows:
Thursday, February 7
Thursday, May 2
In some cases, students may apply Financial Aid to help pay for the trip. Students are strongly urged to speak with a representative in the Financial Aid Office about the details of their Financial Aid.
All payments should be made to the GHC Business Office on your campus. Please give the Business Office your name and student ID number. Please specify that you are making a payment for the GHC Panama study abroad program. The GHC Business Office accepts check and credit card, although there is a 2.75% service charge for credit cards.
Cancellations: Travelers who cancel before May 2, 2019 may receive a refund. Due to our reservations in Panama, cancellations after May 2, 2019 cannot be refunded.
Airfare
The third expense related to the GHC Panama study abroad program is airfare. Both of the departure and return flights for the GHC Panama study abroad program are through Delta Airlines. The price of airfare, which is approximately $700 without discounts or frequent flyer miles, is not included in the price of the trip that students pay to the college. This is so that students with frequently flyer miles and other discounts with Delta can use them to save money. Students must make their own airfare reservations. However, they must reserve the same flights as the rest of the group. In order to ensure that they have a seat on the flights for the Panama trip, students should make their airfare reservations by Thursday, April 4. Students should send proof of their airfare reservations to Dr. Bronson Long by this date. For complete information on airfare, including the exact flights to reserve and Delta's contact information, please see this document: AirfareInfo.Panama2019
Other expenses: Students who do not have a passport that will be valid in July 2019 will need to obtain a valid passport. A new passport cost $140. Passport applications should be sent to the US Department of State well in advance as it often takes 4-6 weeks to receive a new passport from the US Department of State. Students who wait to the last minute will either have to pay an additional fee to expedite their passport application or risk not going on the trip. Instructions about applying for a passport or renewing an expired passport can be found at your nearest US Post Office or at the US Department of State at the following website:
https://travel.state.gov/content/travel/en/passports/apply-renew-passport.html
Students should also budget about $100 for things such as the few meals not included on the trip and snacks. Students who wish to purchase souvenirs will also need to budget for that, depending on how much they are willing to spend. Please note that Panama accepts the US dollar. Thus, there is no need for students on the trip to exchange currency.
For any questions about the GHC Panama study abroad program, please contact Dr. Bronson Long, the Director of Global Initiatives and Study Abroad at Georgia Highlands at blong@highlands.edu or 706-368-7618