GHC Sites
>
Information Technology
>
IT Help Center
>
Connect to Wireless on my Device
>
Wireless macOS
If you are using macOS, simply choose the correct network from the Wi-Fi menubar icon. Add the certificate to your Keychain when prompted, and then enter your username/password.
1. Click the Wi-Fi icon at the top right of the screen next to the clock.
2. From the drop-down list select "GHC-Student" for students, "GHC-Employee" for faculty/staff.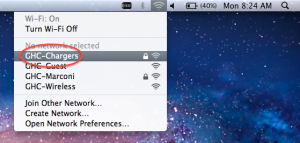 3. Type in your network username and password used to logon to e-mail.
4. Click "Join".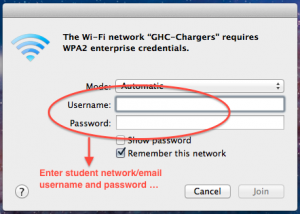 5. You will get a pop-up asking to verify a certificate, click "Continue".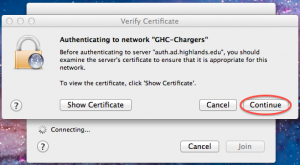 6. You will then be asked for your computer's Administrator username and password, usually the username and password you user to log in or install software.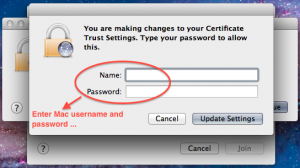 7. Click "Update Settings".
You should now be connected! Still having problems? Contact Us!