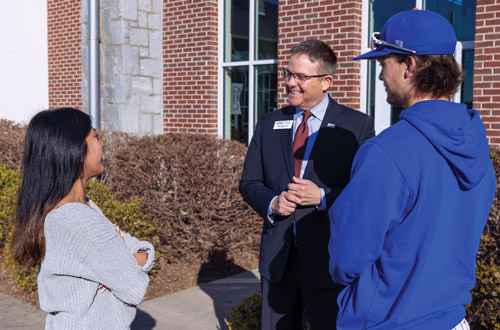 About Dr. Mike Hobbs
President Hobbs leads with a focus on students and community during his first year at GHC
Georgia Highlands College welcomed Dr. Mike Hobbs as the new president in July 2022 alongside the Board of Regents of the University System of Georgia. President Hobbs is a first-generation high school graduate and a first-generation college graduate originally from Ensley, Alabama.
He earned an associate degree in applied science from Jefferson State and completed his bachelor's in criminal justice from the University of Alabama – Birmingham (UAB). He also earned his master's degree in education supervision and leadership from UAB and completed his Ph.D. in community college leadership from Mississippi State University. He has also completed post-graduate coursework in economics from the University of Detroit Mercy.
Before GHC, he served as vice president for student affairs and athletic director at Jefferson State Community College in Birmingham, Alabama, where he played a key role leading the college's efforts to increase overall cohort graduation by 200%, student retention by 22% and transfer-out rate to four-year schools by 20%. He also supported capital campaigns that generated more than $50 million for Jefferson State and the St. Clair County School Board. He also assisted with completion of two successful SACSCOC accreditation reaffirmations.
"Dr. Hobbs has a demonstrated ability to connect with today's students and successfully support them toward graduation. That vision, combined with his experience in admissions and student affairs, will help more Georgia Highlands students achieve a college education and grow the college's reach in Northwest Georgia," USG Chancellor Sonny Perdue said. "Thanks to an already solid faculty and staff, Georgia Highlands has a bright future ahead."
Within his first month at GHC, President Hobbs along with the Georgia Highlands College Foundation and the leadership team at GHC created a new scholarship to help students pay for college. The new "Ready to Start" scholarship is for any student who falls a few hundred dollars short of paying after financial aid and other scholarships have been applied.
Dr. Hobbs stated that a few hundred dollars shouldn't keep a student from attending class and working toward their college goals, and that's why he and the leadership team at GHC decided to create this new fund to immediately help students during his first semester at the college—which helped hundreds of students right away.
He said the use of this new fund is a way of ensuring those students who are "ready to start" get the support they need at a moment in their college career where it can make the biggest impact.
"GHC is an economic engine in our region, generating career-ready graduates who go on to make our communities even better," President Hobbs said. "The investments we make in our students today who are seeking to make a better life for themselves, their families, and their community will have exponential returns for our region and state."
President Hobbs has also spent much of his first year at GHC bringing community leaders together throughout the 30 counties in Northwest Georgia the college draws students from. Starting in Rome, Cartersville, Marietta, and Dallas, then expanding out, Georgia Highlands College has hosted several events across the region with that aim in mind.
Legislators, community leaders, and more from across Northwest Georgia came together at GHC to engage with the college and meet President Hobbs, as he spoke about his plans for the future of the college and its purpose in the community.
"We are the access college for the University System of Georgia for our region," he said. "We are the talent producer for our footprint. So, whatever is in our footprint, we need to know from our economic partners what it is that they need. Because we educate you here, we get you a degree here, we get you in a job here, you raise your family here, and your kids stay here. We are here for our footprint."