Primary updates to share this week include 1) dedicated web page for commencement info; 2) commencement pomp and circumstance; and 3) faculty parking
Visit commencement.highlands.edu for updates related to information and ceremony details with venue map, view options, safety measures, and more! * Note: Though outdoors, face coverings will be required while navigating the venue and throughout the processional due to the large group gathering. Please visit commencement.highlands.edu for more details.
GHC Graduation Committee is proud to confirm that pomp and circumstance will be uniform for all three ceremonies (10am, 3pm, and 6pm). The processional lineup will include:
MUSICIANS: The Highlands Brass and Percussion Ensemble led by Sam Baltzer
BAGPIPER: Joe Dunaway
MACE BEARER: Billy Morris
STAGE PARTY: President Don Green, Provost Dana Nichols, VP for Finance & Administration Jamie Petty, and Communication Professor/Card Reader Travice Obas
FACULTY PROCESSIONAL: led by Faculty Marshals Mark Pergrem, Lynn Herman, and Frank Minor
Faculty Parking will be reserved near the Floyd Campus Library with a designated entrance from Booze Mountain Road (see venue map). Watch for parking passes to be emailed in the days ahead.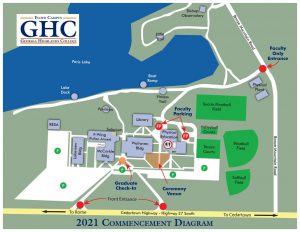 Walraven Award: Congratulations to Billy Morris for being selected 2021 Walraven Faculty Award! (re: Dana Nichols' email dated 04/15/21; acceptance speech at 10am & 6pm)
Mace Bearer: Billy Morris (re: Dana Nichols' email dated 03/22/21)
Honorary Faculty Marshals: Frank Minor (6pm), Mark Pergrem (10am), and Lynn Herman (3pm)
University System of Georgia BOR Welcome: Regent T. Dallas Smith (6pm)
2021 Commencement Ceremonies
Thursday, May 13th • 10am & 6pm 
***
Nursing Pinning & Commencement
Thursday, May 13th • 3pm
(for nursing graduates only)
***
FRIDAY, MAY 14TH
(Severe Weather Contingency Date)
***
Outside Ceremonies – Floyd Campus Grounds
***
Staff volunteers are needed at Floyd Campus for Wednesday set-up details (May 12) and for Thursday commencement details (May 13). Staff should confirm approval with their supervisor and then email Bradley Gilmore at bgilmore@highlands.edu with their approved date and availability. Additional details will be provided in the days ahead.
Look for pending updates related to Run of Show. Check for your weekly highlights in Friday posts of GHC Inform!
For questions related to commencement planning, please email Graduation2021@highlands.edu