The Coordinator of Community Outreach School of Business and Professional Studies at Georgia Highlands College is responsible for establishing connections between GHC programs and local business, industry, chamber, and economic development organizations in order to maintain the relevance of our current programs and degrees and provide input into future program and degree development at GHC.  For those programs that lie within the School of Business, this coordinator may also develop and/or provide instruction as needed for non-credit courses.
For detailed information or to apply:
Log into OneUSG Connect
From Recruiting, click the "Apply for Jobs" tile
Select "View All Jobs" to view internal job postings
Please contact April Godfrey at agodfrey@highlands.edu if you do not have an "Apply for Jobs" tile in OneUSG or have problems submitting your application.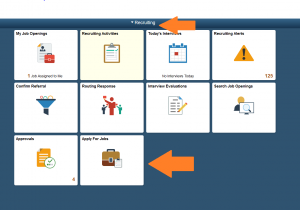 This position will be posted internally through March 22, 2021.
Please visit the Internal Job Posting policy for eligibility requirements and other information.