AVPARR must lead collaborative efforts to advance the College's Strategic Plan with a focus on strategies to support teaching and learning, student success, retention, and completion. The AVPARR will also develop and maintain articulation agreements. This position has college-wide responsibilities that require travel between all campuses and to off-site locations. This position reports to Provost/Chief Academic Officer.
For detailed information or to apply:
Log into OneUSG Connect
From Recruiting, click the "Apply for Jobs" tile
Select "View All Jobs" to view internal job postings
Please contact April Godfrey at agodfrey@highlands.edu if you do not have an "Apply for Jobs" tile in OneUSG or have problems submitting your application.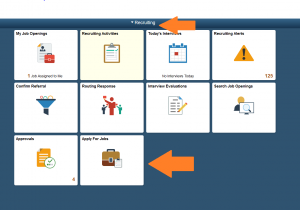 This position will be posted internally through March 14, 2021.
Please visit the Internal Job Posting policy for eligibility requirements and other information.