GHC Summer Dress Guidelines
July 17, 2019
GHC has a traditional business casual dress code during the academic year with the exception of casual dress Fridays. However, starting July 22nd and ending the day that precedes the first day of classes, the institution is establishing a summer dress code that employees may observe on days when they have no meetings or events that would make the attire inappropriate.
The following list is a guideline of appropriate and inappropriate attire under the summer dress code. These are examples only. Managers or supervisors may determine if an employee is dressed inappropriately for the workplace.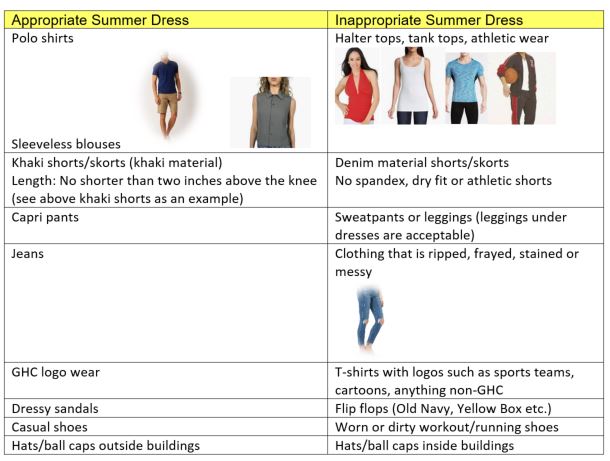 All employees are expected to comply with this dress code in a manner consistent with their gender identity and expression. Employees who report to work inappropriately attired will be asked to change clothes. As with any guideline, there may be exceptions made for a variety of reasons. Employees with questions regarding appropriate summer dress should direct them to their manager.