We have NEW "Enroll Now" yard signs! Get yours today to display at your home or family business now through July 15th !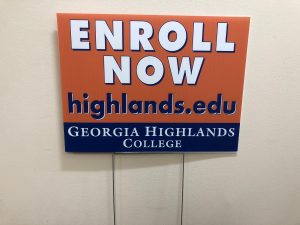 If you are on the Floyd Campus, you may pick up your sign from Jessica Cantrell. Her office is the first office located on the Advancement hallway directly across from the VP of student affairs office in the McCorkle building.
If you are located on another campus, please email jcantrel@highlands.edu and request your sign and we will send it by campus mail to you.
Thank you for helping with our marketing, recruitment, and retention efforts at GHC!