GHC Home
>
Division of Humanities
>
English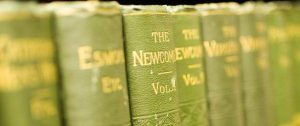 Good reading and writing skills are essential for academic and professional success. English is one of the top majors for pre-law students and future educators. An English degree can also lead to a career in editing, copywriting, technical writing, public relations, and more. Georgia Highlands College offers English courses in composition, creative writing, and literature.
Composition I (ENGL 1101) and Composition II (ENGL 1102) offer students the opportunity to improve their English grammar, hone research and essay writing skills, and begin an exploration of literature and literary analysis. These courses are part of Area A of the Core Curriculum. Literature courses, including World Literature I & II, British Literature I & II, American Literature I & II, and African-American Literature, expose students to a variety of cultures and ideas via the written word. They facilitate both creative and critical thinking and reinforce writing skills acquired in Composition I & II. Any of these courses can be used to satisfy the Area C literature survey requirement.
For students interested in creative writing, Creative Writing I &II can be used as a Humanities electives or to fulfill area F requirements in several majors. Students may also submit their work for possible publication in GHC's literary magazine, Old Red Kimono. The ORK features writings and artwork of GHC students and sponsors the annual "I Love GHC" photography contest.