GHC Home
>
Division of Humanities
>
Communication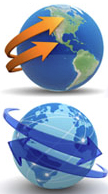 "The way we communicate with others and with ourselves ultimately determines the quality of our lives."  – – Anthony Robbins
Good communication skills are essential for success in one's business and personal endeavors. And, according to the US Department of Labor, overall employment of Communications-related fields, such as advertising, marketing, promotions, public relations, and sales is expected to increase by 13% through 2018. Employers will be seeking individuals who have higher level critical thinking, creativity, interpersonal, relationship-building and group communication skills – all concepts taught in our Communications course offerings.
We offer two general education Communication courses to fulfill Area B requirements:
COMM 1100 – Human Communications offers students the opportunity to hone oral presentation skills while developing knowledge in the areas of interpersonal relationships, group interaction, media effects, persuasion, language, and other areas of human communication. This class is available for anyone to take regardless of major in order to fulfill Area B requirements.  We strive to help students make sense of communication issues in a changing world, and to be aware of how their communication efforts affect outcomes in their daily lives in this class.  Human Communication is offered on all campuses and is available in traditional, online, hybrid-online, and DVD formats.  Service learning opportunities are provided in specified sections.  Oral presentations are required in all formats.  Please see the current class schedule for more details.
COMM1110 – Public Speaking is a class designed to help students who want more in-depth training in writing and delivering oral presentations in a variety of situations, from individual to group presentations. Increased emphasis on rhetorical skills, delivery styles, and organization/persuasion is what sets this class apart from Human Communication. This class is available for all majors as an Area B option.
Other courses offered include:
COMM2230 – Introduction to Mass Media
COMM2105 – Interpersonal Communication
COMM1502 – Intercultural Communication
See course descriptions and the schedule of classes for more information.