GHC Home
>
Division of Humanities
>
Art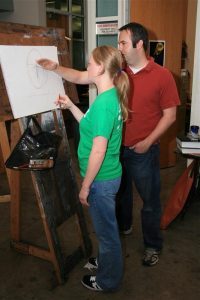 Georgia Highlands College offers an Associate's degree in Art, focusing on the first two years of transferable core classes. Students in the art program will take basic Drawing, Painting, and Two-dimensional Design courses as well as two semester of Art History.
Studio courses are designed to help students develop fundamental observational skills and techniques, as well as explore creative processes. Students will learn the foundational concepts necessary for success in four-year art programs.
The Art History classes provide a basic survey of the major art periods from prehistoric works to contemporary styles. Students will study historical, sociological, and philosophical influences on the production and appreciation of art.
For non-art majors, GHC offers an Art Appreciation course to fulfill Area C requirements. Illustrated lectures and readings present the sociological and psychological factors that influence the production of art and show the basic problems of design and technique. Appreciation classes are offered on all campuses as well as an online version.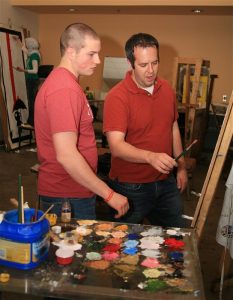 Facilities:
The Art Studio is located in the Lakeview Building on the Floyd Campus. It is equipped with a printing press, easels, and abundant floor space.
Contact Information:
For general admission information, please contact:
admitme@highlands.edu
For questions specifically related to art classes or the art department, contact Brian Barr, MFA
Admissions: 706-295-6339
Brian Barr, MFA: 706-802-5656